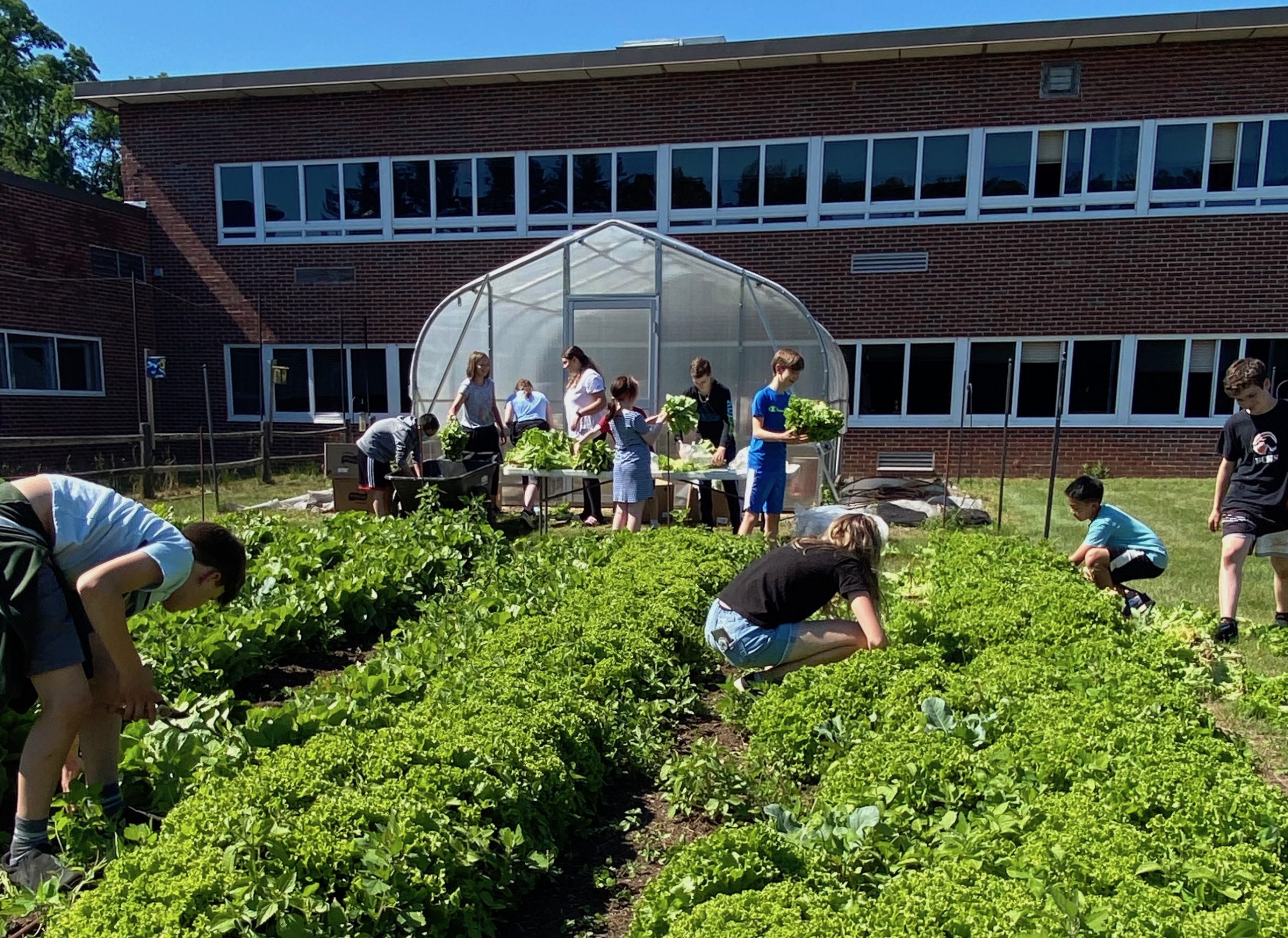 The Green Team is an organization within the Bethlehem Central School District comprised of administrators, teachers, parents and students who are dedicated to promoting environmental education, responsibility and leadership within the schools of Bethlehem Central, and also to the greater community.
Green Team Initiatives
The group leading these initiatives is the District Environmental Committee, "Green Team." Through the committee's goals and work with both our educational and Bethlehem communities, we will continue to increase the visibility of the below initiatives, to promote educational (including curricular) programming, and model environmental stewardship. Click to read more about each initiative.
Learn about our organic school gardens, including how we work with the school cafeterias to provide our own students with fresh produce.
Learn about how BC educates about energy consumption within our own district.
Learn about the compost and recycling programs we have at Bethlehem Central.
---
Green Team Educational Programs: 
Environmental Education at BC
Starting in October of 2016 the Bethlehem Central School District, in partnership with Five Rivers, trained science research and AP environmental students to conduct DEC WAVE (Water Assessment by Volunteer Evaluators) Research. Over 50 students attended the training at Five Rivers. Ten students then continued with this research led by Nancy Conway  (Friends of Five Rivers – Guided School Program Coordinator). This training was first made possible by Stephanie Maes, a College of Saint Rose professor, who mentored two science research students in 2015. The district will continue to work with Five Rivers to train the current 42 AP Environmental students in October of 2017.
"I am very excited by the partnership that we have established with Five Rivers. It has allowed students from grade 4 to grade 12 get hands-on authentic learning experiences in our back yard. Nancy Conway and Gina Jack are incredible resources for our district and have gone the extra mile to help our students experience amazing educational activities."
Have an idea on how to expand environmental learning opportunities for students? Here is how you can get involved:
People are more likely to be moved to action if they feel connected to the situation. A generation of children that feel connected to the soil, water and wildlife of this planet are more likely to become better environmental stewards. This committee will explore the current environmental and outdoor programs being implemented across the district. It will also look for new ways to encourage teachers to get their kids outside. New resources, programs and ideas will be investigated and shared. If you are interested in participating on this sub committee please contact Mark Warford at the middle school.
Bethlehem Central School District Environmental Curriculum Structure
In keeping with the mission of Bethlehem's Environmental ("Green Team") Committee, it is the aim of our science program K-12 to develop an ethic of Environmental Stewardship in all of our students. Generally, it is our intent to have students "think globally, while acting locally" to understand and develop and appreciation for their native environments and the ecological balance necessary to their survival. As links between environmental experiential learning and students' passion for Environmental Stewardship continue to be discovered and elicited it is the intent of our curriculum leadership to emulate all research-based programming by incorporating into our local curricula.
K-12 Overview of Courses / Curricula that impact students in this area:
(Note: units of study in the physical sciences are not listed)
In our K curriculum students explore matter through our "Properties" unit. In this unit, any number of experiences is provided to engage students in exploring the properties of various substances.
In our K/1 multi-age curriculum students complete a unit learning about "Earthworms" and "Brine Shrimp."
Students in grade 1 complete units studying "Seeds," "Butterflies," and "Weather."
In our 1/2 multi-age curricula, students study "Plant and Animal Life Cycles," "Butterflies," plants in a unit titled "From Seed to Plant," and animals in a unit titled "Organisms."
Students in grade 2 complete units studying "Ants," and "Soils."
Students in our multi-age 2/3 study "Eggs to Toads."
Students in grade 3 study plants in a unit titled "Plant Growth and Development."
Students in our multi-age 3/4 study "Systems," and "Animal Studies."
Students in grade 4 complete an "Ecosystems" unit.
Students in our multi-age 4/5 study "Land and Water," "Crayfish," "Microworlds," and "Pond Life."
Students in grade 5 study "Crayfish," and ocean ecosystems.
Students in grade 6 study Earth Science for the entirety of their year.
Students in grade 7 study Life Science for the entirety of their year. Students in grade 8 study Physical Science for the entirety of their year.
Our High School Science Curricula include several offerings in the life sciences, Earth Science, Chemistry, and Physics, as well as Advanced Placement courses in Biology, Chemistry, Physics, and Environmental Science.
In addition to these district supported and mandated curricula, teachers at every grade support Earth Day with week and month-long environmental activities around themes of conservation, preservation, "Reduce, Re-use, Recycle," and the work of our Green Team continues to grow the pride of our Educational Community in our efforts to support all things Environmental.