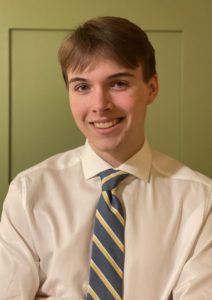 He is a published author, a podcaster and a political enthusiast who just happens to still be in high school. Now Henry Reichman, a junior at Bethlehem Central High School, is about to spend time with the president of the United States, members of Congress, and a justice of the Supreme Court as part of a prestigious national scholarship and leadership program known as the United States Senate Youth Program.
The U.S. Senate Youth Program is an extremely competitive merit-based program for high school students who are interested in pursuing careers in public service. Two delegates from every state in the nation are selected to visit the nation's capital in March for an intensive week-long education program and are each awarded a $10,000 scholarship to be used at a college or university of their choice.
The program and its scholarships are funded by The Hearst Foundations.
Reichman is one of the two student delegates who will represent New York state in 2022. Due to the pandemic, this year's program will be held virtually. The delegates will still get to meet and learn from the highest level elected and appointed officials in Washington while attending briefings and meetings throughout the week. 
Past delegates to the United States Senate Youth Program include U.S. Secretary of Transportation Pete Buttigieg, U.S. Senator Susan Collins, Democratic National Committee Chair Jaime Harrison, and former New Jersey Governor Chris Christie.
"I really cannot wait for the actual week-long program in March," said Reichman, who said he has already met and befriended some other states' delegates from across the country in group chats online. "In March, I'll be very excited to meet some Cabinet members, a Supreme Court justice, and President Biden."
According to the district's Social Studies supervisor Nick Petraccione, Reichman is one of only a handful of Capital Region students to be selected for the United States Senate Youth Program in its 60-year history. 
"This is an incredible honor for Henry and for our school district," said Petraccione, who helped Reichman navigate the application process. "You can count on one hand how many students in our area have earned the right to participate in this program since it began way back in 1962. This will be the second time for Bethlehem since 2012. We are very proud."
Reichman described the application process as "interesting and comprehensive."
"We were tasked with writing an essay on a topic of our choice; I did congressional ethics, analyzing the effects of how immoral stock trading and use of public funds affected voter apathy toward Congress," said Reichman. "After that, I had an interview, and I was then selected as one of two delegates."
Students must also demonstrate leadership within their school community. Reichman is involved in several activities both at school and outside of school. Most notably, Reichman has published a book entitled The Excitement Complex about political enthusiasm, advocacy and activism.
"(In my book) I analyze the reasons why voters emotionally invest themselves into issues that don't directly impact their lives, and how to refine advocacy to be more effective," said Reichman "It's available for purchase on Amazon and I'd love to hear feedback from anyone who checks it out."
You can check out Reichman's book here on Amazon. (If you act quickly it will be here in time for the holidays.)
If listening is more your style, you can also catch episodes of the podcast, "Generation Elect." Reichman hosts the show and has interviewed several nationally known figures including Senator Doug Jones, presidential candidate Lawrence Lessig, and author Jonathan Haidt. The podcast features a panel of BCHS students who join Reichman to analyze current events and issues. Read more about "Generation Elect" in a Spotlight article from 2020, or look for it where you find your favorite podcasts.
In his free time, Reichman is a member of the high school's Debate Club. He also enjoys reading about 20th-century history and plays jazz piano, performing at local restaurants as part of a group.
As far as the future goes, this high school junior has big plans that go well beyond voting in his first election in 2022.
"I very much plan to study political science and international relations (in college), perhaps with a minor in musical studies," said Reichman. "I want to branch out into many disciplines of public service and politics after that, working on campaign strategy, public policy for the National Department of Education, op-ed journalism and writing, perhaps academia.
"A cabinet position would be a long-shot, but a dream," said Reichman.
Congratulations to Henry Reichman on this outstanding honor!