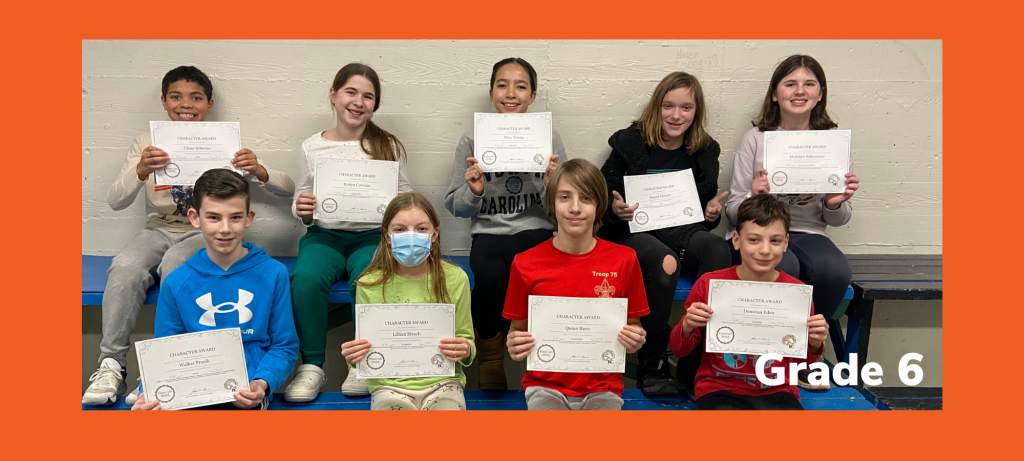 On Friday, February 17, nearly 50 middle school students were surprised to learn they were being treated to a special celebration and a "Pit Party" after being selected by teachers for demonstrating positive character traits.
The best part of the celebration? They each got to bring along a friend.
Several times a year, as part of the school's Character Education Program, students are honored for specific observed character traits outlined in the BCMS Pillars of Character. Each team nominates students who have demonstrated one of the highlighted character traits on a consistent basis.
The following students were recognized for demonstrating the character traits of appreciation of beauty, curiosity, leadership, love, prudence and zest.
Congratulations to all!
Hudson
Grade 7
Eleanor Blabey-Goldhirsh –

Eleanor shows attention to detail on developing her artwork, but also recognizes that beauty enhances our lives. She has devoted her talents to the murals in the cafeteria.

Gage Dievendorf –

Gage takes an interest in a wide variety of topics.

Brynn Colwell –

Brynn sets a positive example for other students to follow.

June McCarthy–

June demonstrates a great deal of respect and affection for her friends.

Tyler Ostrander – T

yler makes good decisions and demonstrates maturity.

Aidan Childs –

Aidan approaches tasks with energy and excitement.
Grade 8
Bradley Middendorf –

Brad loves to think, explore, and discover. He constantly asks questions or makes observations both during and after class that go above and beyond what has been discussed in class. 

Matthew Jacobs –

Matt participates in class all of the time, asks insightful questions, and is an advocate for himself. He asks for help when needed, always tries his best, and is a positive role model for other students. 

Gianna Ofori –

Gianna is confident in herself. This allows her to be a role model for her peers on her team and the larger BC community

Eloise Sugar –

Eloise is a quiet and deliberate force in the classroom. She takes her time and her comments and work show careful thought. When she does share, her peers listen closely, showing respect to her process.

Tahir Hocalar –

Tahir comes to class every day with contagious enthusiasm. He is eager to learn and has a positive influence on her peers. He approaches every day with excitement and energy.
Mohawk
Grade 6
Madelyn Salmonsen –

Maddie notices and values the beauty in the content she learns in 6th grade. She always sees the good and focuses on the positive.

Donovan Eden –

Donny is always seeking new knowledge by engaging in conversations and sharing his creative insights with others.

Evelyn Correira –

Evelyn is an honest and hardworking student who influences, motivates and guides others to achieve their goals.

Walker Prusik –

Walker is a kind and caring student who shows positivity to others in all of his interactions throughout the school day. His kindness makes others feel cared for and supported.

Lillian Strach –

Lilly is careful about her choices, stopping to think before acting. She listens to others' thoughts in a respectful way and always has courteous conversations.

Ingrid Matsen –

Ingrid finds an adventure in everyday experiences. She approaches opportunities with excitement.
Grade 7
Julia Zornow –

Julia is a great artist and designed beautiful drawings for each of her teachers.

Jacob Hussar –

Jake is a strong leader. He is always looking for ways to improve himself and helps other along the way too. Jake is kind and patient with his classmates.

Esme Kobayashi –

Esme is so kind. She went out of her way in English class when all teams were sharing their realistic fiction short stories to comment on the stories that had not yet been read.

Daniel Leach –

Daniel shows great character and makes good choices on a daily basis.

Bartas Relys –

Bartas is full of life and so funny. He is always positive and makes others around him feel acknowledged.
Grade 8
Claire Kapczynski –

Claire takes the time to see all of the positive and beautiful things going on around her that others miss.

Caleb Potenza –

Caleb is intellectually curious and seeks new knowledge.

Claire Pruitt –

Claire takes risks and challenges the status quo…she is a true leader!

Jessica Abdallah –

Jess is always smiling and happy! She is a positive person that is kind and loving!

Noah Eisenberg –

Noah is a disciplined student that uses reason, skill and good judgment at school

Sophia Landi –

Sophia is a great student that is full of enthusiasm and energy!
Patroon
Grade 6
Macy Young –

Macy displays curiosity by asking questions and wanting to learn more about all different topics. Macy also likes to share her experiences and knowledge with the class and teachers. 

Quinn Barry –

Quinn is a leader in school. Quinn works well with others, asks questions and volunteers to help classmates when needed. 

Chase Scherzer –

Chase shows zest through his love for school. He loves to share his ideas, knowledge and experiences with his teachers and classmates.
Grade 7
Ezra McIlvain –

Whether peeping some birds on a walk to school or cross country skiing with friends and family, Ezra clearly appreciates the beauty that surrounds him.

Jayda Smith –

Jayda looks for the beauty around her and in others, especially as a member of our No Place for Hate club.

Tyler Carr –

Tyler is always one of the first students to ask a great question in class that shows not only that he understands the material, but that he's looking to know more.

E.J. Hackett –

E.J. is always ready with great questions and looking for ways to broaden his knowledge. E.J.'s curiosity shows all his teachers how much he cares about learning.

Giancarlo Papa –

Always choosing the right thing to do and behaving above expectations are clear examples of how Giancarlo can be a true leader.

Annabel Rose –

Annabel's positive approach to all her classes and her respect for all are clear examples of the solid leadership she exhibits for her peers.

Ajihon Castro –

Aljhon goes out of his way to let others know he cares about them and what is happening in their lives. It is clear from the smile on Aljhon's face that he has a lot of love in his heart.

Ashlynn DeCrescenzo –

On many occasions, Ashlynn has shown her teachers that she is full of love and kindness, which makes her such a wonderful person to be around.

Adriana Ferrara –

Adriana is a thoughtful and purposeful young person who makes choices and decisions that serve as great models for her classmates.

Nick Gresen –

Nick works hard, makes solid choices, and doesn't let the behavior or choices of those around him affect the good decisions he makes.

Caolain Rosencranse –

Caolain starts the day with zest and carries that with her throughout the day, which makes the world a bit better for those around her!

MiaThomas –

Super friendly and always smiling, Mia's zest brightens the rooms she is in!
Grade 8
Ellie Scher –

Ellie is very creative and an artist. She makes beautiful projects.

Sammy Johnson –

Sammy asks great "why" questions in class.

Anna Kane –

Anna loves to read and discover new characters and stories.

Vivian Graf –

Vivian and great at organizing and delegating group work.

Emily Schneiderheinze –

Emily can be counted on to model great work ethic and decision-making to her peers.

Kaleb Murray –

Kaleb is positive, full of energy, and genuine in his connection to peers and adults.