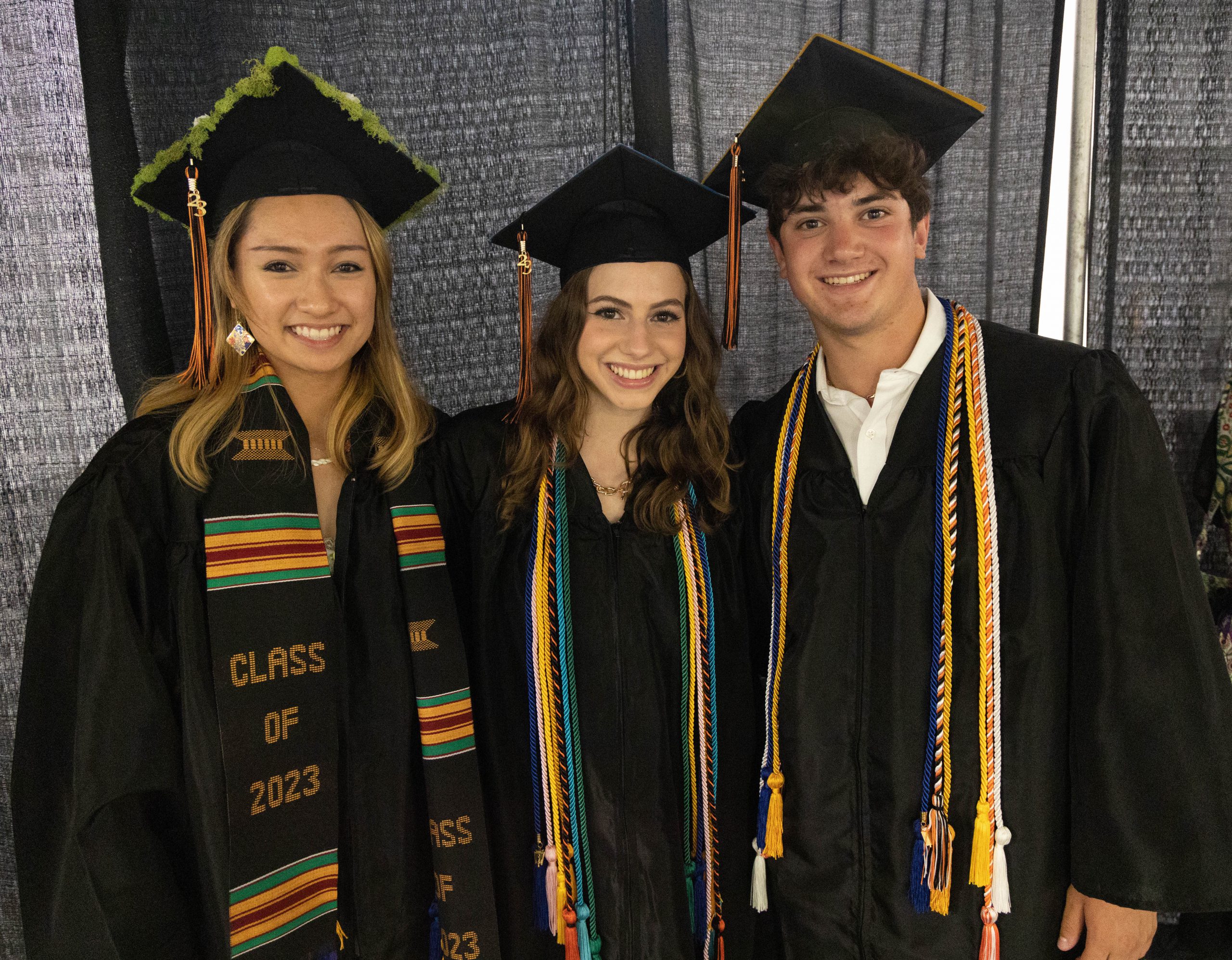 On Friday, June 23, a class of 341 students from Bethlehem Central High School received diplomas at an evening commencement ceremony held at the MVP Arena in downtown Albany. It was a joyous event for the members of the class of 2023, their families, friends, teachers, staff, administrators and members of the Board of Education.
Principal David Doemel, Jr., Superintendent Jody Monroe and Board of Education president Holly Dellenbaugh all addressed the graduating class and guests. There were also three student speakers at the 89th BCHS Commencement Exercises. 
Hannah Fronheiser gave an opening address that reflected on a school environment in Bethlehem that provided the class of 2023 with an essential foundation for success in life. Using her own experience as a swimmer, Fronheiser likened each student's unique experiences to ripples in the water.
"Ripples are positive actions or decisions that make a change," said Fronheiser. "Bethlehem allowed us to create ripples in school and our community by having a can-do attitude to make the world better.  High school is just the ripples; our life after Bethlehem is where we will see waves."
Violet Macdonald delivered a keynote address that took her classmates on a proverbial road trip through their years together in Bethlehem. Without focusing on the bumps in the road, Macdonald emphasized that life's milestones are a series of journeys and destinations.
"The miles slipped away and we've reached the end of the road," said Macdonald. "Leaving such a tight-knit school community to enter the real world is terrifying, but I feel so fortunate that the goodbyes will be tearful and the reunions joyful.
"Taking the wheel and leaving behind the car full of people you've grown up with won't be easy, but this is what we've been waiting for," said Macdonald "Nobody goes on a road trip just to stay in the car; we weren't driving just to drive. Whether we realized it or not, every moment on the road was spent preparing for the next chapter of our lives."
Lily Watson closed the ceremony with a speech that took students down memory lane.
"There is no other class that would continue to sing Journey's Don't Stop Believing at the football games long after it ended playing over the loudspeaker," said Watson. "There is no other class that looked as goofy as us on pajama day for Spirit Week. I hope you all realize that these moments were the ones where we bonded together and created stories that will last a lifetime."
The entire ceremony was livestreamed. You can view a recording of the ceremony here.
Students were also accompanied by their high school counselors as well as the 2023 honorary graduation marshals who are faculty members selected by the students as having had a significant impact on their time in Bethlehem. This year's marshals were Michele Atallah (BCHS), Adam Ayers (BCHS) Elizabeth Barrett (BCMS), McKenzie Barrett (BCMS), Matthew Bixby (BCMS), Susan Cullen (BCHS), Cori DiFabbio (BCMS), Kristy Eldeen (BCHS), Corey Fong (BCHS), Evan Harley (BCMS), Thomas Hotaling (Hamagrael), Durray Mahmood (BCHS), Jeffrey Mongue (BCMS), Kimberly Montalvo (Eagle), Sean Mooney (BCHS), Maria Qualtere (Slingerlands), Matthew Rehbit (BCHS), Stephen Smith (BCMS), Vanessa Treffert (BCMS), Sarah Trombadore (BCHS), Michael Valenti (Elsmere), David Vara (BCHS), Lauren Ward (Glenmont), Jessica Westervelt (BCHS), Anthony Wilson (BCHS) and Christine Zemsky (BCMS).
Congratulations to our newest BC alumni for their hard work and their contributions to the BC community. We wish them the very best!
Commencement Program – Digital Version
The 89th Commencement Exercises program can be viewed online at this link.
A full list of graduates can be found below.
Graduation 2023 Photo Highlights
Candid photos will be added to Facebook and Instagram throughout the weekend so check back for more. Professional photos taken at the ceremony will be shared with families individually. A full album of candid photos will be shared with families via ParentSquare on Monday, June 26.
Follow us on Instagram @bethlehemschools
Post-Grad Plans – Class of 2023
What do our newest alumni have planned for themselves? Many members of the graduating class of 2023 recently shared their plans for after graduation. 
List of Graduates
*  – Honor graduates, Lab School honor graduates and Bethlehem Academic Achievement Award winners with a 90 or above average for 3 ½ years wear gold cords.
+ – National Honor Society Members wear blue and gold cords.
** – President's Award for Educational Excellence
*** –  President's Award for Educational Achievement
> – Seal of Biliteracy
^ – Seal of Civic Readiness
# – Foreign Exchange Student
Andrew H. Albert
Mirella Albrecht * ** > +
Alyssa Rae Allen
Maryam Alsammarraie >
Luzelena Alvarez * **
Suzanna S. Amirbekian * ** > +
Corinne Anderson * **
Griffin Rakesh Andrews * ** +
Nicholas M. Atteck * ** ^
Katherine M. Augar
Dylan M. Austin * ** ^ +
Haley Ona Backlund *** ^
Ella Joan Jia Baker * ** > ^ +
Elizabeth Anne Baldwin * ** +
Daniel J. Battista * ** ^
Kevin Begley * ** ^
Finnigan Nathaniel Belcher * **
Carter Ryan Bennett
Benjamin E. Berin * **
Caden Anthony Bernardo * ** ^
Sarah M. Bernasconi * ** ^ +
David G. Bethmann *** ^
Kayleigh Marie Bigwarfe * ** ^ +
Ella W. Bishop ^
Sean P. Black ***
David M. Bloom
Joseph Robert Bolduc
Annie Sophia Bolke * ** > ^ +
Katherine Christine Boyer
Stella Bradshaw * ** >
Kayla Ruth-Bea Braga
Isabelle Kaya Brand * ** +
Kathleen Claire Brodeur * ** > ^ +
Natalie K. Bronchetti * **
Abigail M. Brousseau * ** +
Christopher Michael Brozowski, Jr.
Isabelle Brusic * ** > ^ +
Macey Belle Bryant ***
Amanda Katherine Burek ^
Natalie Grace Kim Buttacavoli * **
Maeve Colleen Byrnes
Rory W. Cairns ^
Orin Carlson-Lee * **
Michael W. Carlson * **
Briegé Doriana Carmichael * ** > ^ +
Leah Anne Casey >
Hanna Destani Cassanova
Lilly M. Caulfield
Joseph Daniel Cea ^
Hayley E. Cerza
Charles D. Chandler, Jr.
Isabella Rose Chirkis * ** +
Diego Clark * ** > +
William Christopher Clark
Charlotte E. Clarke * ** >
Matthew Collins
Grace Irene Connolly
Owen R. Conway * ** ^ +
Claire Margaret Crisafulli ^
Molly E. Crookes
Matteo R. Cubello * ** ^
Rachel J. Cuccolo * ** ^
Rylee Brianne Davis * ** ^
Gabriel de Jesus * ** >
Enrique de Paz ^
Jill E. DeCancio * ** > ^
Nicholas Derrick
Brydon DeVolder * **
Luke G. Diamond
Blake Donato Dieckmann ***
Erik T. Doherty
Catherine R. Donovan ^
Riley N. Donovan * ** +
Camella Marie Douglas * ** > ^ +
Naomi G. Doyle * ** > ^ +
Paul Christopher Doyle, III * ** ^
Madeline A. Duffy * ** ^
Clayton A. Dutfield
Dylan Duvall * ** ^
Olivia Maxine Dwyer
Kaelyn S. Edmunds ***
Marlisse Wesleigh Edwards * ** > ^
Matthew Edwards
Sofie Eisenberg ***
Federic Charles Arcangel Ejanda ***
Silas Shapard Elliott
Joavahna A. Eloir
Hannah Eng * **

Nicholas Evangelista * ** ^ +

Clark Arthur Evans * **

Benjamin Fabe * **

Lindsay E. Farmer * ** ^
Aaron Joseph Felberbaum * **
Asia L. Ferrera * ** > ^
Elizabeth Catherine Figge ***
Michael Patrick Fischler * ** +
Nicholas Forezzi
Zackary J. Foro
Qui' Janae A. Frazer
Reagan Elizabeth Frazer * ** ^
Hannah Claire Fronheiser * ** ^ +
Jack R. Fuller
Ava Frances Furgele * ** ^
Madeline Hope Gallagher * ** > ^
Caleb R. Gambelunghe * ** ^
Leah Angela Garrison * ** > ^ +
Ella M. Gentile
Zachary R. Geurtze
Julia Amanda Ghazi
Anna H. Godlewski * ** ^
Matthew E. Golonka * **
Luke C. Goodemote
Leah M. Gornstein * ** > ^ +
Greta Josephine Graf >
Lillian Fuller Gray ^
Lincoln C. Green ^
Emma Barbara Greenblatt * ** ^ +
Jason C. Groat
Lenin E. Gutterman
Sarah Linn Guyette * ** ^ +
Aden Lucas Haas * **
Elaina Ruth Hallenbeck ^
Sophia Husain Harris
Sean C. Harwick * ** +
Caleb D. Hayes
Alexis C. Haynes-Matuszek ***
Chloe Nicole Heaslip >
Chloe M. Heckman * ** > ^
John Daniel Hennessy ^
Audrey C. Henson * ** > ^ +
John F. Hepfer
Charlotte Willa Higgs * ** ^ +
Jacob M. Hildreth * ** ^ +
Ella Margaret Holbrook * ** ^
Clara J. Hollands ***
Isabella L. Hoogkamp * ** ^
Olivia K. Hopper * ** > +
Lindsey Susan Hotaling ***
Natalee Huli * ** > ^ +
Hallagan G. Hussar * ** ^ +
Claire Catherine Hutton * ** ^ +
Luke L. Inglis
Molly K. Isaacs
McKenzi Nicole Jacques
Jadyn Raquel Jegede
Ulka Jerabek ***
Daniel J. Johnson *** ^
Liam S. Johnson *** ^
Ryan Edward Johnston * **
Tabitha Paige Jones *** ^
Soham Joshi
Maya Danit Kamenir * **
Owen B. Karmel * ** +
Mackenzie R. Kawczak ***
Grace J. Kee * ** ^
Eliza Brooke Keruskie ***
Jake S. Killian * **
Lena Victoria King ***
Sophie Klein * ** ^ +
Emma E. Kleinke
Julia Winn Kloss * ** > ^
Adam S. Kohn * **
Meagan Kolberg
Yanni Michael Koutelis
Leszek Matthew Kozakiewicz
Anna Sophia Kranson * ** > ^ +
Emily Kurlander * ** ^ +
Sofiia Kykliak * ** >
Charles R. Labarge * ** +
Flannery D. Lalor-Cruz * **
Peter H. Landi * ** > +
Jazmin Renee Lawson
Sydney G. Lena * ** ^
Kara J. Leonard * ** ^
Quinn Lesperance ^
Joshua David Levin * **
Jenna Alicia Libutti * ** > ^ +
Nathaniel H. Licht ***
David Hart Lichtenwalner * **
Stephen Liebold * ** ^
Gavin Edward Lizor
Matthew Oliver Lowry *** ^
Carmen J. Lucantonio
Gemma Maria Lucarelli * ** ^ +
Elly Lyda * ** >
Cecilia Raquel Lyons ***
Liam Thomas Lysogorski * **
Violet Hilles Macdonald * ** > +
Audrey Jane Manley * ** > ^ +
Rizwan Mann ^
Marcella Julia Marinello ***
Luke H.J. Marshall * **
Cody Jacob Martin ^
Jane Elizabeth Martin * ** > ^
Diego José Martínez Arguello
María Paz Massón #
Kevin R. Mattis * ** +
Aaron Mattupurath ***
Mason Maurer * **
Norah Ruth McCaffrey *** ^
Liam G. McCarthy
Aidan G. McGarry
Toni Ekuah Ezeankeh McGee >
Adam Thomas McGowan
Elaina Ivana McGrath * **
Alexis L. McGraw
Madison Lynn McGuiness * ** ^ +
Caitlin Jay McInerney * **
Jane Clare McKillop
Jake Gates McKinley * ** +
Ryan E. McMillen ***
Nora Grace McNabb ^
Reilly Leila Meredith * ** ^
Madison Victoria Miller
Madeline M. Mitchell * ** >
Brian W. Mocerine * ** ^
Nicholas V. Monteleone ***
Anthony Morano
Natalie Grace Moshier ***
Julia R. Munn ^
Brian E. Murphy * ** ^
Patrick D. Murphy * ** +
Andrew M. Nastars
Colby L. Naumovitz
Jonah Anthony Negris
Jack G. Newell * ** > ^ +
Adriana Nickarz
Alejandra M. Nieves * ** >
Quentin J. Nolan
Rhys Patrick O'Connell
Eric J. Ofori * ** ^
Nina Irene Palella * ** ^
Leyonce K. Palmer ***
Isaac Pan * **
Liam J. Parry ^
Paula F. Parsons * **
Vesna Pasetto * ** > +
Aman Jagat Patel * ** ^ +
Ywa Paw
J'onLuc Pierre Perkins
Isabella Rose Perrotto * ** ^ +
Melia F. Pesca * ** > ^ +
Rocco Picard
Violet Bernadine Piccinini * ** ^
Nihal Ezgi Pinar ***
Dylan Joseph Poirier * **
Agnes V. Potenciano * ** +
Chiara Elizabeth Poust * ** ^ +
Zachary Steven Price * ** ^ +
Alicia M. Prieto * ** +
Jake Konrad Raab *** ^
Nikhilesh Radosevich * ** ^ +
Shreya Raghu * ** +
Prova Rahman *** ^
Liam Michael Raleigh * ** >
Elisabeth Ramsey ^
Jenna Lyn Rappazzo
Lily Annmarie Reagan * **
Nicolas R. Recene * ** ^
Henry Atlas Reichman * ** +
Connor Reilly * ** +
Christian M. Revai *** ^
Matthew J. Reynolds * **
Reese Allan Richter
Aric J. Rider, Jr. ^
Anderson Ridgway
Emma N. Rivers * ** ^
Peyton Leslie Roach ***
Jamuel R. Robinson
Danilo F. Rosella
Anastasia E. Rossi * ** ^
Sophia Michelle Rounds * **
Isabella Emily Rowe
Hailey C. Rozell ***
Sydney Ryan
Ella S. Sabbia
Tyler Matthew Sagendorph ***
Fabian E. Saiz
Jude Loay Salman * ** ^
Zane Loay Salman * **
Emma Marie Salzer * ** > ^ +
Nicholas Jacob Sammon
Abiola Felicia Samuels
Jamie Armand Samyn
Paige Madison Sanford * ** ^
Lara Sanlés * **
Lauren Elizabeth Savage * ** > ^ +
Matthew C. Scanni * ** ^
Alexander T. Schalk * **
Jared D. Scharf * **
Haliann M. Schwalb * ** ^
Damese Yahariah Shook
Shannon Lee Skawinski ^
Alexander John Smith ***
Cameron J. Smith * **
Aiden Baltazar Somerville ***
Evan Andrew Soraghan
Courtney H. Sorbello *** ^
Jocelyn Victauria Soto ***
Jackson Christopher St. Cyr * **
Hannah G. Steil ***
Summer Anne Stevens *** ^
Kellen Patrick Stewart * **
Brody J. Stone
Samuel A. Stothart
Mikayla Teta
Catherine AnLi Thibault ***
Charles Thomas * ** ^
Ronan Amato Tiu * ** > ^ +
John J. Vagianelis * ** ^
Angelina S. Van Royen * ** ^
Ruger W. VanWie
Howard Vargas *** ^
Tyler Hogan Vennard *** ^
Genevieve Paige Vollaro * **
Henry S. Vriesema *** ^
Dylan Vuille * ** >
Ciara M. Wade ***
Ryan Walker
Margaret M. Walters * ** +
Haoxian Wang * ** ^ +
Lily M. Watson *** > ^
Chloe Carine Webb
Maia G. Weinstein * **
Olivia Sky Whalen *** > ^
Pamela Victoria White * ** > +
Lucy J. Whiteley * ** > +
Sophie Marie Wickham
Landen Wilcox
Ellen Mae Winne * **
Christopher Troy Witkowski ***
Jayden Wojcik * **
Gu Hong Wu * **
William Wu * ** ^ +
Briana Grace Yanson *** ^
Logan A. Yohe * **
Sabrina You * ** +
Danny Zheng * ** ^
Jerry Zheng
Milo Joseph Zlatev * ** ^
Elizabeth Hazel Zollman * **