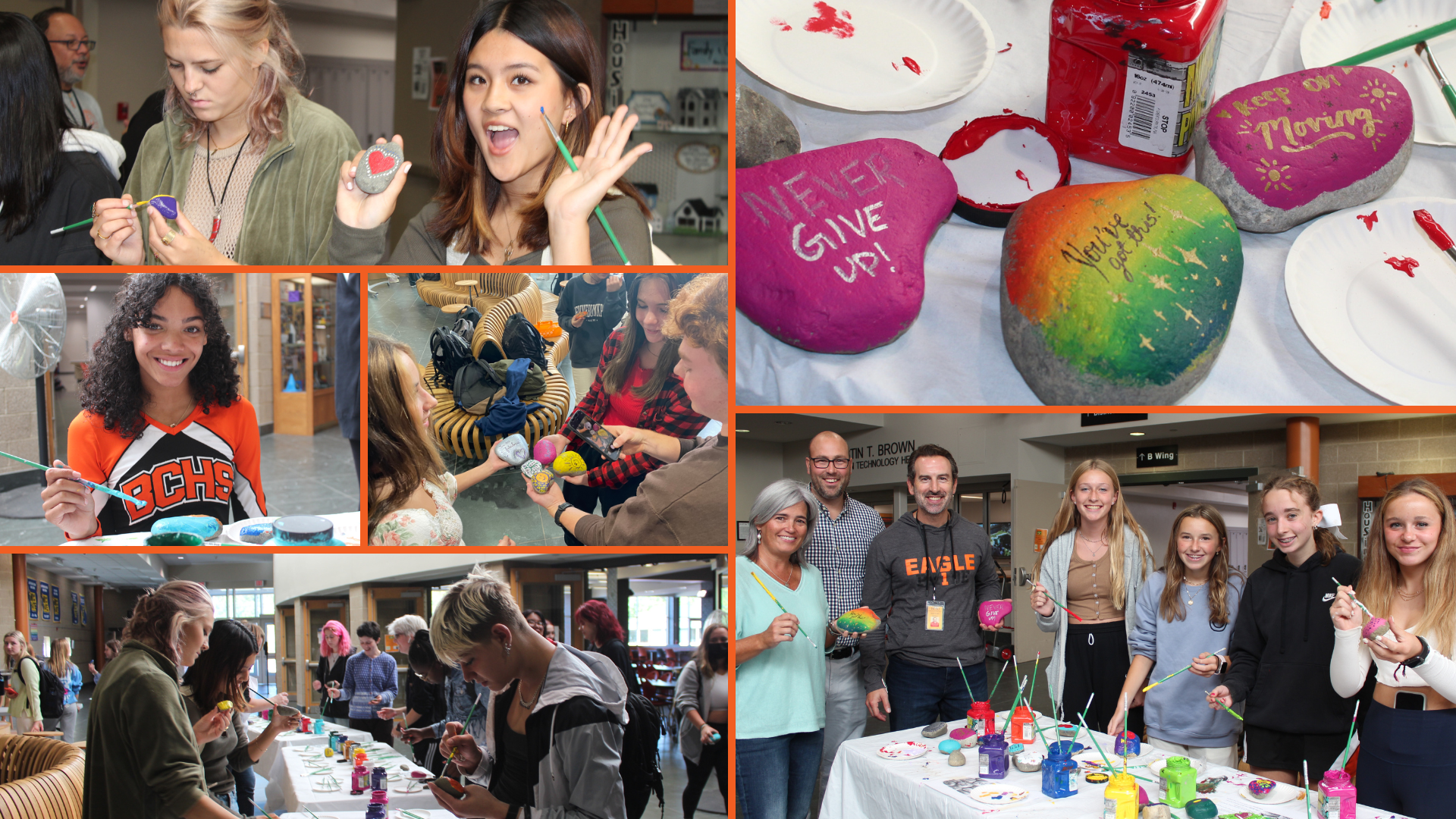 "This was the best idea."
Those were the words of one BCHS student who took part in the first-of-its-kind "Rock On, Keep On" project in support of mental health.
The event, which took place on Friday, Sept. 23, was hosted by the Bethlehem Central High School Counseling Center and the BCHS Art Department. Students in grades 9-12 gathered in the school's main foyer during their lunch periods to paint messages of inspiration and perseverance on landscaping rocks that will be placed under trees around the high school campus.
High school counselor Ryan St. John said he was inspired to create the event after a summer spent reading about how the Covid-19 pandemic was impacting the mental health of adults and especially teens. 
St. John said he also wanted the project to take place in September as part of Suicide Prevention Month.
"There are startling and sobering statistics showing 19% of high school students in the U.S. have seriously considered suicide," said St. John. "That is one in five students walking the halls of our high school. It is a statistic that deserves more of our collective attention."
The painting session, set to upbeat rock music and positive energy, allowed students to show support for each other's well-being and mental health while interacting and having fun.
The result was nearly 200 colorful landscape rocks with powerful, inspirational messages meant for students, and written by students. Their messages included:
"You're a star."
"Rise up."
"Friends are here." 
"You aren't alone."
"Never give up."
"You can do this."
"The opportunities in life are sky high."
Painting a rock may sound easy, but the process required time, effort and the commitment of students and staff.
Students had to first pick a stone from a bed in the Counseling Center courtyard, then wash the stone to prep it for paint, paint it with a primary color first, dry the first coat of paint with a blow dryer, and then decorate it with their message.
"I hope they can keep up with my directions," said district art department supervisor Melanie Painter, who was responsible for the multiple stations set up as part of the pop-up art studio.
The colorful, inspirational rocks don't have a permanent home yet but St. John said the Counseling Center is working on that.
"This is an opportunity to capture a moment where nature and our human capacity for compassion meet," said St. John. "We want students to be able to see these messages in a place where they gather outdoors and we hope to find the perfect spot."
Thank you to the students and staff who made this a very special event.
If you or someone you know is struggling with suicidal thoughts, you are not alone. Call the National Suicide Prevention Lifeline at 1-800-273-TALK (8255). They provide free help 24/7.