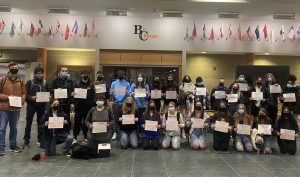 At Bethlehem Central High School, there are many students who are making a difference at school and at home. Each month, some of these students are recognized for acts of kindness or displaying character strengths that make them role models among their peers. At the high school, these students are a big part of the school's "Be the Change" mantra, where they make setting high standards for their peers look easy.
Congratulations to the group of students recognized as the school's "Be the Change" recipients for November and December! They are:
Albrecht, Mirella
Blendell, Sam
Bronk, Eileen
Bughrara, Nyara
Casey, Leah
Clarke, Nathi
Drew, Rachel
Edwards, Marlisse**
Edwards, Marlisse (twice!)
Fresina, Sam
Golonka, Matthew
Gough, Sydney
Graham, Chris
Hill, Emma
Ingraham, Onya
Izzard, Teah**
Jacobs, Justice
Lettrick, Violette
Marinello, Marcella
Martocci, Diana
Medert, Katrina
Meek, Sean
Millard, Lily
Paul, Lola
Pokabla, Ellie
Radosevich, Nikhilesh
Robinson, Jamuel**
Rodriguez, Avi
Rodriguez, Starr
Scheilding, Madison
Shook, Damese**
Soraghan, Evan
Staff, Brody
VonWedel, Kelsey
Walston, Anna**
Winne, Ellen
Yohe, Logan
Our "Be the Change" students are automatically entered to win gift cards. Those awarded gift cards are noted below with a ** next to their names.