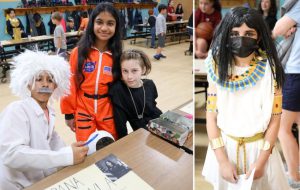 If you were at Hamagrael Elementary Thursday, you would have thought Elon Musk, Cleopatra, and Stan Lee were in the same room.
Hamagrael fifth graders took the idea of a wax museum to the next level. They brought their assignments to life. Students dressed up as a notable person and put together a presentation about them.
"It's really fun that we got to read a speech," fifth grade presenter Ella Cady said.
The students and families that toured the exhibit could pop a coin in the bucket and learn about how Indira Ghandi became the first female Prime Minister of India. Not too far down the row of tables in the cafeteria was Pablo Picasso talking about how his art career.
For fifth-grade student John Talens who was behind the Picasso character, the presentation was a confidence booster. 
"You tell people about stories. You shouldn't be shy to tell them. I've been shy about it, but I think I'm getting used to it now," John said. "(At first) I couldn't really remember my lines, but as I continued more people began to come, I got used to it. And now I feel confident."
Ella Cady was inspired to be Nadia Comăneci, the first Olympic gymnast to score a perfect 10 for her performance.
"I'm a gymnast too and I thought it was really cool that she was the first person to get a 10," Ella said.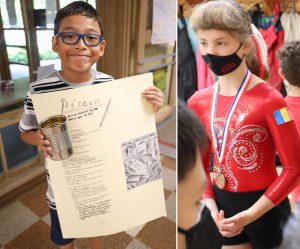 Check out this Facebook gallery with more photos from the wax museum
While the lesson on the surface may have been to learn about a certain person, Ella's presentation helped echo another lesson. 
"With hard work anyone can achieve what they want to," Ella said.
All the coins used during the wax museum exhibit will be donated to Water for South Sudan to help build wells to provide fresh water.