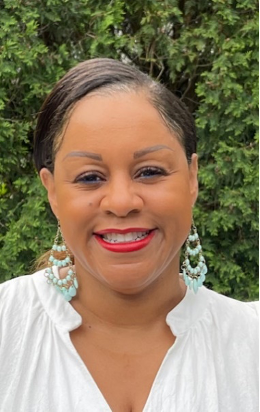 Latisha Ellis-Williams, Ed.D.
At its June 1 meeting, the Bethlehem Central Board of Education is expected to formally appoint Latisha J. Ellis-Williams as the district's first diversity, equity and inclusion officer.
Currently an administrator in the Arlington Public Schools in Arlington, Virginia, Dr. Ellis-Williams has more than 25 years of experience in education in urban, suburban and rural school systems across the country and internationally. In addition to her current role as assistant principal of Swanson Middle School in Arlington, she has been a teacher, content leader, dean of culture and instruction, and a principal.
She has extensive expertise in student development, learning and implementing theory, teaching strategies for helping all students, designing culturally responsive professional development pedagogy and building programs focused on meeting diverse student needs. 
Superintendent Jody Monroe said the appointment of Dr. Ellis-Williams as Chief Diversity, Equity and Inclusion Officer is the next step in the district's Diversity, Equity and Inclusion (DEI) work that has been ongoing since the 2016-17 school year.
In the newly created position, Dr. Ellis-Williams will help the district create a consistent and clear DEI strategy that can be implemented and assessed districtwide.  As part of that strategy, she will help administrators, faculty, and staff with a collective and cohesive understanding of diversity, equity and inclusivity across the district. In addition, Dr. Ellis-Williams will serve as the district's Title IX officer, providing regulatory compliance with federal and state laws relating to sexual harassment and violence prevention and will keep staff informed of changes to laws and regulations in these areas.
"We are excited to welcome Dr. Ellis-Williams to BC," said Superintendent Jody Monroe. "As an experienced, influential leader Dr. Ellis-Williams will work collaboratively to strengthen the district's ongoing efforts to create a more diverse, equitable, and inclusive community for all faculty, staff, students, and families."
A native New Yorker who grew up in Bridgehampton on Long Island, Dr. Ellis-Williams holds a doctorate in educational administration from Dowling College, a certificate of advanced studies in school district administration from Long Island University, a Master of Science in education from Long Island University, and a Bachelor of Arts in elementary education and teaching from the State University of New York at Oswego.
In addition, she holds certifications as a Title IX coordinator and administrator from Tulane University Law School and earned a certificate in Business Diversity, Equity and Inclusion in the Workplace from the University of South Florida Muma College of Business.
"I look forward to my new role at BC," said Dr. Ellis-Williams. "I am committed to supporting the success of ALL students, developing a diverse, culturally responsive workforce, and fostering positive, welcoming learning and working environments for all students and employees."
Superintendent Monroe said the district conducted a nationwide search for an experienced DEI leader who will be key to fulfilling the district's mission and who will support the district's core values of academics, character, community and wellness.
"Our district's mission is rooted in helping all students reach their potential. Dr. Ellis-Williams has a lifetime of experience doing just that," said Superintendent Monroe. "Every single child who comes through our doors has a unique background and differing abilities. We want each one to know they are affirmed and valued on their path to success. We will not stop short of that goal."