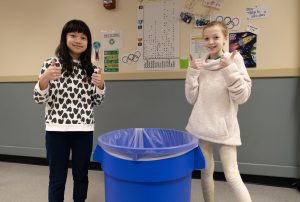 Students at Elsmere Elementary are doing what they can to recycle, reuse and reduce.
It started with a Recycling Olympics challenge in February, encouraging students to collect recyclables in their classrooms. Then the classes would bring the full recycle bins to the school's recycling headquarters in exchange for bronze, silver, and gold stars.
While recycling has been a long-time initiative at Elsmere, the Recycling Olympics helped make it more of a community activity. 
"They (used to) just throw it in the random trash can. Now we started the recycling olympics and now everyone just recycles more." said Kensi Laraway, fifth-grade student who is part of the Elsmere's Junior Environmental Club.
The Junior Environmental Club worked with the Staff Green Team to start the recycling initiative.
Classes now bring their full recycle bins down to the school's recycling area multiple times a week. For Yuzuki Izumi, a fifth grader at Elsmere and a Junior Environment Club member, this is a chance to make a difference.
"I think it just helps a little more with problems that are going on in the world like pollution," Izumi said. "That's why we're here, because we want to help more on that. And I thought it was a good idea to make a club about it and encourage more people to recycle."
"At this point, recycling has become an embedded part of our daily routine at school, so mission accomplished!" said Elsmere principal Kate Kloss.
Add composting into the mix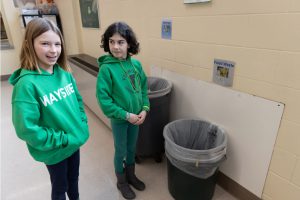 The friendly competition of the Elsmere's Recycling olympics inspired Elsmere fourth-grade students Grace Leddy and Matilda Sugar to help the school grow another green initiative – composting.
"I always try to be the winner, and sometimes I try to be the best at things, Leddy said.
"We saw the sign Ms. Kloss made about all the ways we could get points. And one of the ways was you could get 10 stars for starting to make the school compost. So me and Matilda got super excited about that. So we started brainstorming."
Grace and Matilda's ideas resulted in a permanent lunch room bin where students separate their compostable waste.
"Before that, we used to just throw it out and I thought that was a waste," Sugar said. So if we did it at school we wouldn't throw out as much trash."
Elsmere is one of multiple school buildings in the district that practices composting.
The coolest part? Students will get to see the full cycle of reusing the compost in the school gardens.
"It would be easier for everything to break down into soil for the school garden and we could put the compost in the school garden to help it grow," Sugar said.