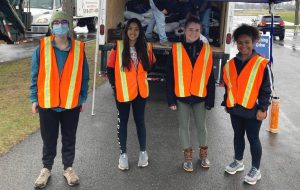 A rainy April day didn't stop 588 households and dozens of volunteers, including Bethlehem Central students, from making this year's Spring Recycle Fest a success.
The event was held on Saturday, April 9. Volunteers spent the morning and afternoon collecting items that can be recycled or reused. 
The event was hosted by the town of Bethlehem, the Bethlehem Central School District Green Team, Delmar Farmer's Market, and Grassroots Givers. 
Learn more of the school district's Green Team.
Check out the impressive list of items collected: 
6,098 lbs of clothing and textiles
11,210 lbs of documents securely shredded and recycled
Over 6,200 books donated for reuse (estimated)
Another 15 cubic yards of books were recycled
143 kids & adult bicycles donated to Wheels Up and Troy Bike rescue (a new record for their collections)
Also, dozens of backyard composters and rain barrels were distributed in a backyard sale. 
Thank you to everyone who helped compile such a giant collection to be reused or recycled!