Fifteen Bethlehem Central High School students competed in the 6th annual Poetry Out Loud competition on Tuesday, December 13th in the high school cafeteria. The competing students represented 9th through 12th grades. The students recited a poem and were judged on six categories:
Physical presence

Voice and articulation

Dramatic appropriateness

Evidence of understanding

Overall performance

Accuracy
Five students advanced to the second round of the competition. Those students were: Bhavyasree Kakarala (Grade 9), Gabriel Martin (Grade 11), Laurel Muench (Grade 9), Xrysanthi Sokaris (Grade 9), and Pamela White (Grade 12).
Winner:

Pamela White (4th straight Poetry Out Loud win)!

Runner-Up:

Laurel Muench
The Poetry Out Loud Regional will be held in Troy this year with dates to be determined. The top contestants from the Regional will be selected to perform at the NYS Poetry Out Loud competition which will be held in New York City in March.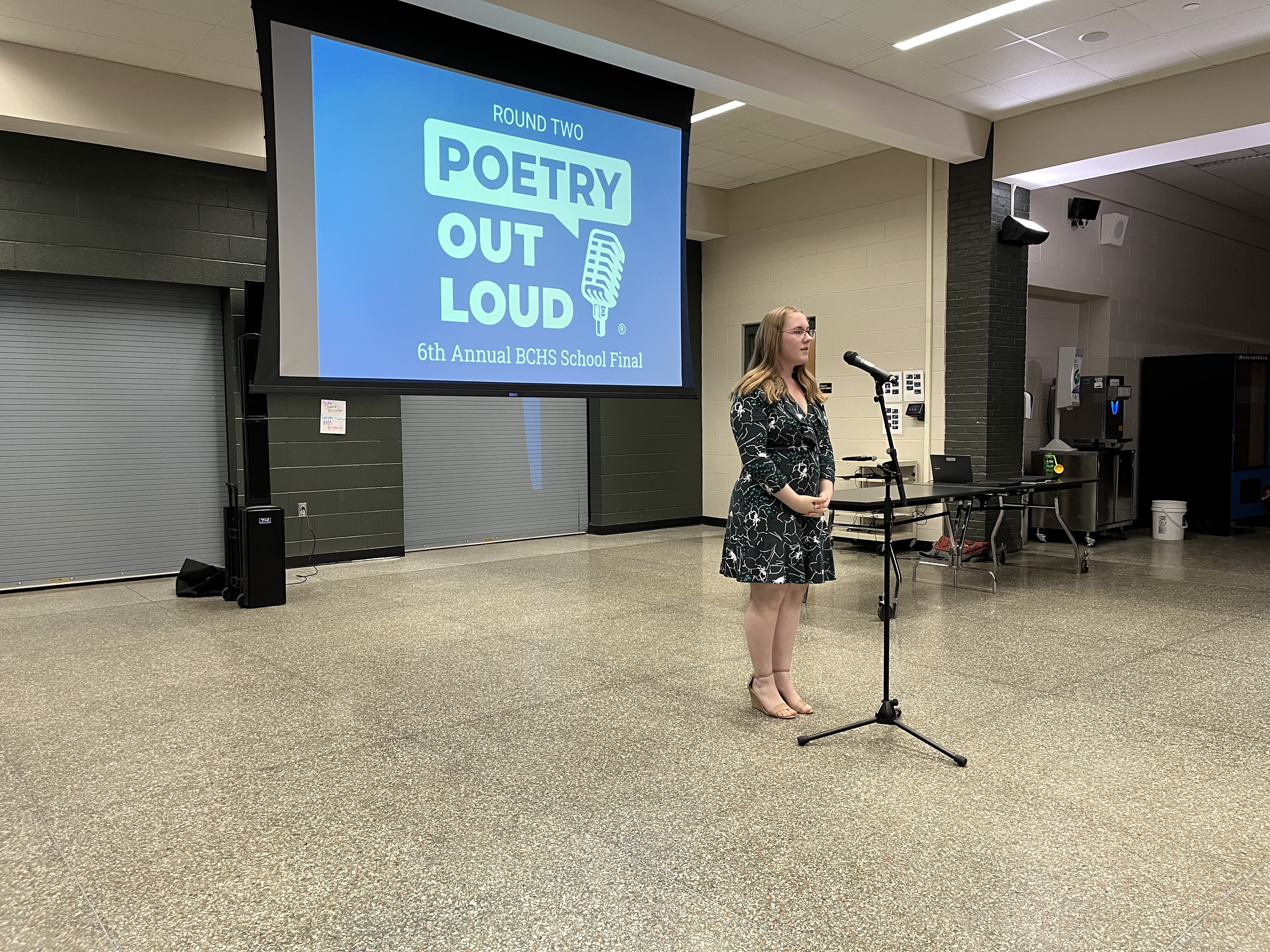 "As always, it was a delightful showing of shared appreciation for the artform of poetry. Our students exhibited a depth of understanding that rivals many Regional competitions I've attended," said Bethlehem Central High School ELA Teacher and Poetry Out Loud coordinator, Andrew Rickert. "I am grateful to our judges, Ms. Edgar, Mr. Hash, Ms. Nigro & Mr. Makely for their time and consideration. On behalf of the ELA Department we congratulate all our contestants and wish Pam and Laurel well at the Regional!"
The following is a list of contestants and the poems they competed with:
Round 1
Chloe Bardin (9)

"What the Oracle Said" by Shara McCallum

Jeremy Cintron Ortiz (9)

"To have without holding" by Marge Piercy

Ian Jin (10)

"Recess" by Maria Hummel

Bhavyasree Kakarala (9)

"Invisible Children" by Mariana Llanos

Anika Kalam (10)

"April Midnight" by Arthur Symons

Gabriel Martin (11)

"The Properly Scholarly Attitude" by Adelaide Crapsey

Laurel Muench (9)

"Immortal Autumn" by Archibald MacLeish

Aadi Ojha (10)

"Today" by Billy Collins

Johanna Radcliffe (10)

"Caged Bird" by Maya Angelou

Katie Reynolds (10)

"To Be Held" by Linda Hogan

Eleanor Rose (9)

"Siren Song" by Margaret Atwood

Julia Siegel (10)*

"Epitaph" by Katherine Philips

Xrysanthi Sokaris (9)

"Pity the Beautiful" by Dana Gioia

Pamela White (12)

"Cartoon Physics, Pt. 1" by Nick Flynn

Caleb Yanai (9)

"Summer" by Chen Chen
Round 2
Bhavyasree Kakarala (9)

"Discrimination" by Kenneth Rexroth

Gabriel Martin (11)

"Drowning in Wheat" by John Kinsella

Laurel Muench (9)

"Invictus" by William Ernest Henley

Xrysanthi Sokaris (9)

"All Hallows' Eve" by Dorthea Tanning

Pamela White (12)

"A Wing and a Prayer" by Beth Ann Fennelly
Congratulations to Pamela, Laurel, and all the contestants!