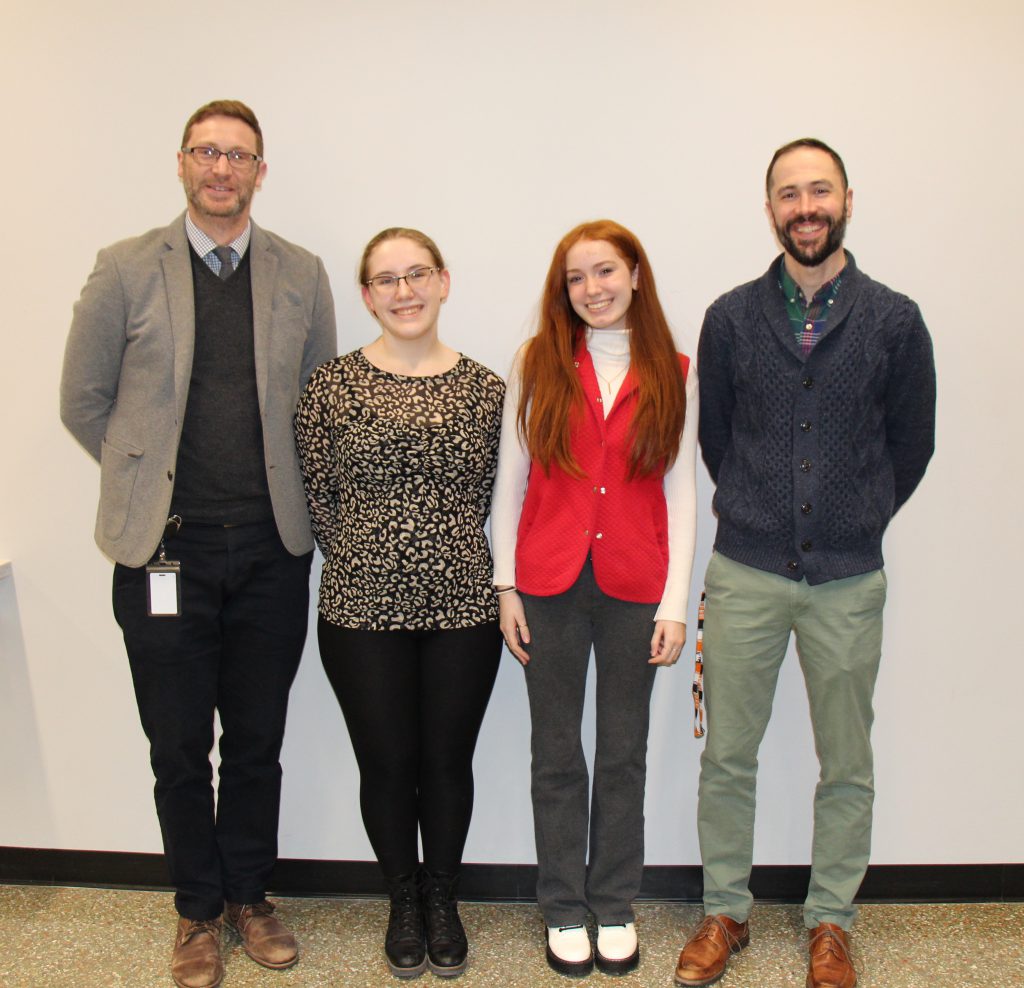 From l to r: ELA supervisor Dan Hash, Pamela White, Sofia Corts, English teacher Andrew Rickert.
Two Bethlehem Central High School Students finished first and second in the semifinals of New York State Poetry Out Loud contest. Sofia Corts and Pamela White will both move on to the NYS finals on Saturday, Mar. 12. 
Corts earned first place during the semifinal competition with recitations of "Two Guitars" by Victor Hernandez Cruz and "Self-Portrait" by Robert Creeley. This is the first year Corts, a sophomore, has ever participated in the Poetry Out Loud contest. 
White earned second place by reciting "Candles" by Carl Dennis and "Oranges" by Roisin Kelly.  The high school junior is no stranger to the poetry recitation contest. White has won the school-level Poetry Out Loud competition three years in a row.
You can view Sophia and Pamela's winning recitations on YouTube.
Both students credit English teacher Andrew Rickert for encouraging them to participate in Poetry Out Loud. 
Rickert introduced Poetry Out Loud to Bethlehem in his first year of teaching in the district in 2017-18. At the time, Rickert said he believed the contest could get students more interested in poetry while they master public speaking skills, build self-confidence, and learn about literary history and contemporary life.
He said Poetry Out Loud benefits both the performer and the audience.
"Students can really identify with a poem after spending time with it and watching others perform brings out a new appreciation of poetry overall," said Rickert.
Good luck to Sophia and Pamela in the NYS Poetry Out Loud finals on Mar. 12. The competition will be aired on YouTube at 11 a.m. More information about Poetry Out Loud can be found here.