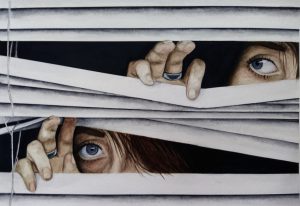 Gold Key for Painting: Corinne Anderson
Six talented BC students have been recognized for their outstanding artwork and have each earned a regional 2022 Scholastic Art & Writing Award.
The awards are presented annually by the Alliance for Young Artists & Writers.  
BCHS junior Corinne Anderson, whose painting (pictured above) earned the highest distinction Gold Key award, will now compete for a National Painting Award.
Since 1923 the Scholastic Awards have recognized some of America's most celebrated artists when they were teenagers. The BC students join an esteemed group of Scholastic Awards alumni that includes Andy Warhol, Tschabalala Self, Stephen King, Charles White, Joyce Carol Oates, and Kay Walkingstick. 
Congratulations again on this remarkable achievement!
Corinne Anderson – Gold Key (Painting)
Claudia Skuza – Silver Key (Digital Art)
Izzy Brands – Honorable Mention (Mixed Media)
Sofia Corts – Honorable Mention (Mixed Media)
Natalie Jada – Honorable Mention (Photography)
Robyn Arnason – Honorable Mention (Fashion)