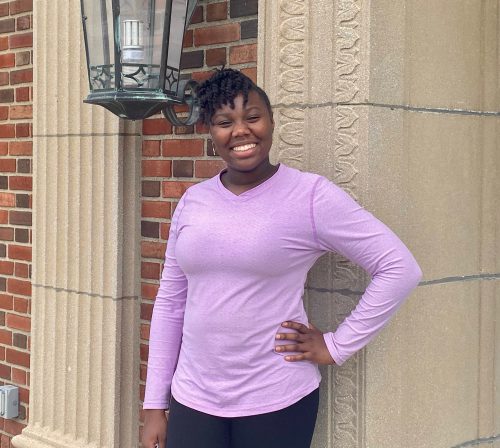 When Bethlehem Middle School social studies teacher Kristen Burns encouraged her students to enter the 25th Annual Black History Month Creative Expressions Contest this year, she probably didn't imagine that a poem about one of life's sweetest treats and an unsung inventor would be honored as one of the best entries among Capital Region students.
But one of Mrs. Burns' eighth-grade students, a budding poet named Johanna Radcliffe, knew she to wanted to tell the story about 19th-century businessman Alfred L. Cralle a little differently. So she chose to write a poem about ice cream and about Cralle, who in 1896 invented and patented the one-handed ice cream scoop with the push feature, a design that has been used for generations. 
Johanna Radcliffe's poem honoring Alfred Cralle was named a winner of the 2021 Creative Expressions contest by Delta Sigma Theta sorority. She said she was "proud and happy and surprised" when she found out her poem had been selected. 
"The reason I wanted to write poetry to tell history is that it is a fun way to learn instead of just reading a long essay about someone, which most people will just skim through," said Radcliffe, who said she became interested in poetry when she was in the fourth grade. "I like the way the words flow and how you can tell a story without reading a book or long paragraph."
Johanna said she chose Mr. Cralle because she was hoping to acknowledge a fundamental person in Black history who was not well-known. At the time Cralle was awarded his patent, he called his invention the Ice Cream Mold and Disher. Despite its popularity and lasting presence, Cralle's contribution was quickly overlooked.
Congratulations to Johanna on this special honor. You can read Johanna's poem below and you can read more about Alfred L. Crall here. 
Sweet and Sticky by Johanna Radcliffe 
Sweet sticky cream runs down your hand as it is
 placed perfectly upon a tan wrapping of cone
As it drips but does not tip over the rim
But how does the perfect shape hold circle
Or mound so profound
Who created this machine
 It moved so fast
That he was just a blur in the past
But he created this thing
That can perfectly scoop
Without the stick of a spoon serving
So unnerving people don't know his name
Alfred L. Cralle who got no fame
For it was a shame
That him with dark skin can create such an invention
For it is where he grew
In virginia he knew
That machines are where his heart flew
When he moved to pittsburgh and worked at a hotel
The idea came to him like a spell
Cast on his hands
As he saw the struggle of fan of ice cream
For just a scoop was a circus no one wanted to see
It came with the meal free
So he worked with metal big and sturdy
And created today what we now see
As an invention to scoop up sweet sticky ice cream