As people begin to gather for Thanksgiving, one family traveling to Delmar from Colorado made a special stop Monday at a place that's not on most families' must-do list for the holiday: the Bethlehem Central bus garage.
Staff and community at BCSD welcomed the family of the late David Burtis. Burtis, a longtime Delmar resident who passed away on May 8, 2022, served as an instrumental volunteer and community advisor helping the district navigate research and information related to electric vehicles. His insight and support helped pave the way for a public referendum on the issue. 
"David participated in webinars, with agencies and vendors and gladly chased down information about any of the questions that we raised," said Judi Kehoe, retired BCSD chief business and financial officer. 
"Trust me, we asked a lot of questions, and undaunted David did this research for us."
The district was honored to welcome Burtis' wife, daughter and two grandchildren for a visit and bus ride in his memory. Burtis' 10-year-old grandson Henry spoke about how much switching to electric vehicles meant to his grandfather, and how much his grandfather meant to him.
"My sister and I looked up to my grandfather David Burtis in many ways, especially when it came to global warming. He taught us that electric buses can help solve global warming," Henry said. 
"I'm glad he helped get these buses for the school."
The family was also able to meet the drivers who are at the forefront of the transition to electric vehicles in the district.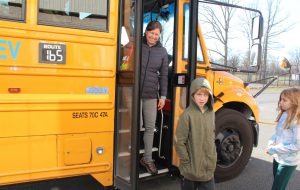 In May 2021, voters of the Bethlehem Central School District approved the purchase of five electric buses. The district's purchase was supported with $1 million through the New York Truck Voucher Incentive Program, administered by the New York State Energy Research and Development Authority (NYSERDA), to reduce the cost of the buses. The district was one of the first school districts in the state to purchase electric school buses and currently owns more EV buses than any school district in New York state. 
Battling amyotrophic lateral sclerosis (ALS), Burtis did not live to see the emission-free vehicles arrive in the district. The five buses were delivered to BC in July of this year. The buses are delivering a cleaner, quieter ride for students. A sixth bus, approved by voters in 2022, is expected to arrive in 2023.
Burtis' wife, daughter and grandchildren each received diecast model school buses in honor of him.