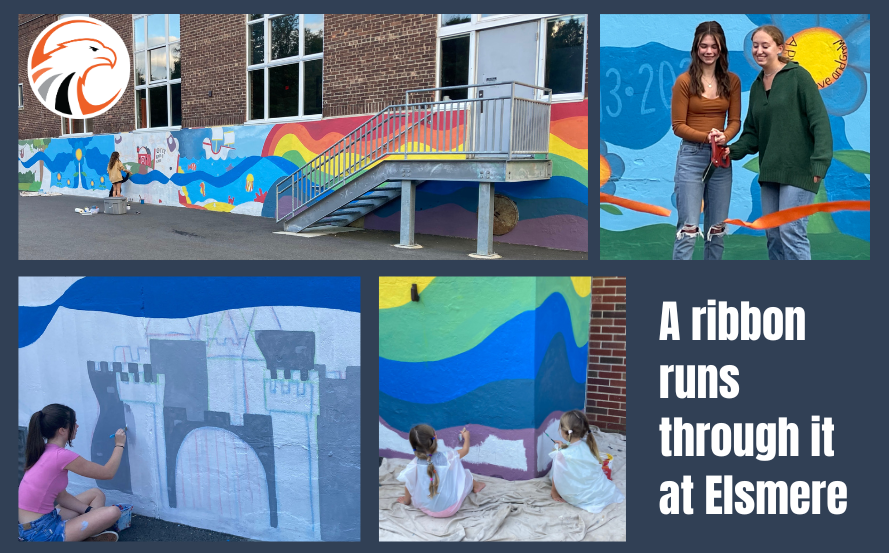 An amazing 80-foot mural is almost complete at Elsmere where student-artists and volunteers worked all summer to adorn the school with images that reflect the school's motto as "a place to love and grow."
Elsmere parent, Michael Treffiletti and his family started the project by asking for design ideas from high school students. The entries from Isabella DiMura and Abby Jones were chosen. DiMura, a BCHS junior, designed and painted a panel featuring a huge flower that flows into a blue ribbon. The blue ribbon, which symbolizes the school's National Blue Ribbon awards (in 2013 and 2022) runs throughout the mural.
Abby Jones, also a BCHS senior, designed and painted the rest of the mural with some painting help from the Treffiletti family. 
Jones and DiMura both attended Elsmere Elementary School. The duo cut the ribbon on the new mural on Friday, Sept. 15.
According to Principal Kate Kloss, there are two more things that will happen before the mural is complete. Each current Elsmere student will be dipping their hands in paint and putting their own handprint on the mural's rainbow. Once they've dried, the mural will be sealed to keep it from fading. 
Watch for more photos of the final project!