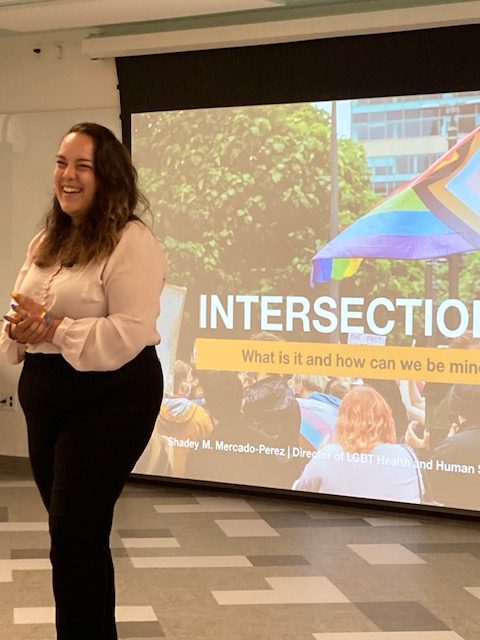 Shadey M. Mercado-Perez
Three high school clubs committed to the advancement of human rights — GSA (Genders and Sexuality Alliance ), SPAS (Students for Peace and Survival) and ALANA (African American, Latinx, Asian, Native American & Allies) —  recently welcomed a guest speaker as part of Pride Month.  On Thursday, June 2, Shadey Mercado-Perez, director of LGBT Health and Human Services at In Our Own Voices engaged our students and faculty in a discussion about intersectionality.
During the presentation, students and faculty collaborated to learn and share how different intersections of different aspects of identity can create unique experiences of discrimination and marginalization for people of all ages. These can include intersections of gender, racial identity, nationality, disability, and sexuality among others.
Students and staff who participated learned about practicing intersectionality in the school setting in the following ways:
Recognizing that there are multiple forms of systemic discrimination;
Recognizing that forms of systemic discrimination intersect with each other;
Respecting the voices of those most affected by the issue;
Being inclusive and incorporating multiple perspectives;
Recognizing the connections between seemingly unrelated topics;
Striving to collaborate with people and provide resources;
While working in collaboration, highlighting the importance of community; and
Understanding and avoiding the Pyramid of Oppression or the Pyramid of Hate.
"Shadey Mercado-Perez was masterful at creating a safe space where participants felt empowered to share their own experiences," said teacher Mike Mitchell, who is a faculty advisor of the GSA. "Students and staff left the presentation with tools to be aware of and how to practice intersectionality both in and out the school setting."
In Our Own Voices, located in Albany, works for and ensures the physical, mental, spiritual, political, cultural and economic survival and growth of the Lesbian, Gay, Transgender and Gender Non-Conforming People of Color communities. For more information about the organization, please visit www.ioov.org.