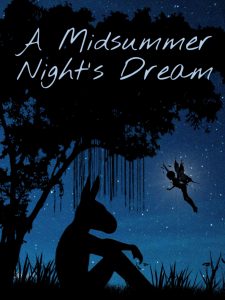 This weekend, don't miss A Midsummer Night's Dream presented by VJCAT (Vincent J. Crummles Acting Troupe) at Bethlehem Central High School in Room D-122.
A Midsummer Night's Dream is a comedy – with elements of magic and romance, too! Dozens of BCHS students are taking part in this show either performing, working on the crew, designing costumes or writing and performing original music.
Three performances:
Friday, June 10, 7 p.m.
Saturday, June 11, 7 p.m.
Sunday, June 12, 2 p.m.
Tickets are $5 each (student/adult). They can be purchased in advance using MySchoolBucks or can be purchased at the door. 
Room D122, where the show will take place, is air-conditioned and provides the audience with a more intimate way to experience this show.  Don't miss it!
(poster artwork by Isabel Lippold)