World Language students in the Bethlehem Central School District continue to excel in both Spanish and French. This year, a total of 100 students in grades 9-12 have been honored as a result of their achievements on national language exams. They are making BC proud!
National French Contest Winners
Congratulations to all of our students who won awards in this year's Le Grand Concours, the national French contest. The district even had a student win a Platinum award, the highest honor in Le Grand Concours. Congratulations, all!  See group photos below.
Platinum
Sophie Wang (Level 2)
Gold
Sophia Imbriaco, Eleanor Benzing, Isha Narang (Level 3)
Silver
Level 5: Heera Narang, Matthew Connolly, Emiliano Torlasco
Level 4: Suzanna Amirbekian, Audrey Manley, Pamela White, Stella Bradshaw
Level 3: Harlow Kung, Grace Chrapowitzky, Rurika Suzuki, Oona Ko Knight
Level 2: Ava Gasson, Katie Reynolds, Nyara Bughrara, Molly Wladis, Anika Kalam
Bronze
Level 5: Nika Midgette
Level 4: Lucy Whiteley
Level 3: Garima Yadav, Norina Zhang, Freddie Fielder, Lauren Greaux, Piper Doolen, Maxwell Gold
Level 2: Anna Peles, Derek Clark, Ronan Singh, Ellie Pokabla, Shayna Huli, Benjamin Stevens
Certificat d'honneur
Level 5: Abraham Kauffman
Level 4: Vesna Pasetto, Adam Kohn, Chloe Heckman, Leah Garrison
Level 3: Zachary Dounane, Casey Large
Level 2: Mofei Zhu, Grace Evans, Julia Siegel, Kate Bannigan, Phoebe Wooster, Kimberly Davenport
Certificat de Mérite
Level 4: Eric Ofori, Greta Graf
Level 3: Olivia Skuza, Lisa Abdallah
Level 2: CC Follos, Mahmud Zamamiri, Lyla Stebbins, Camilla Heckman, Elyssa Johnson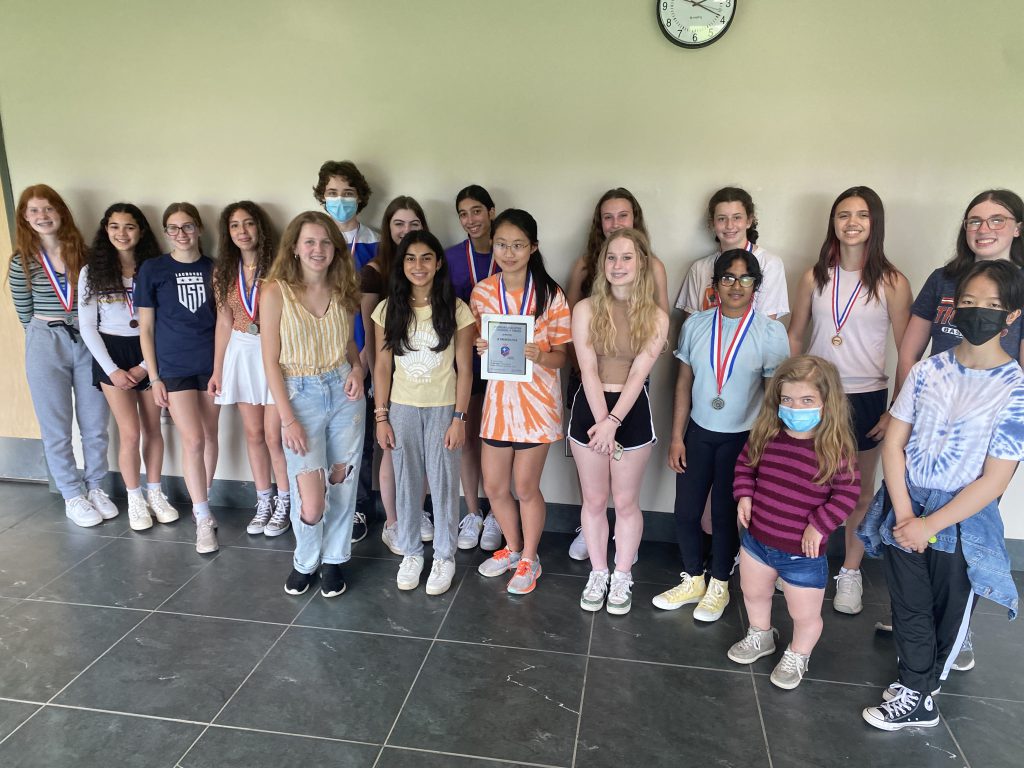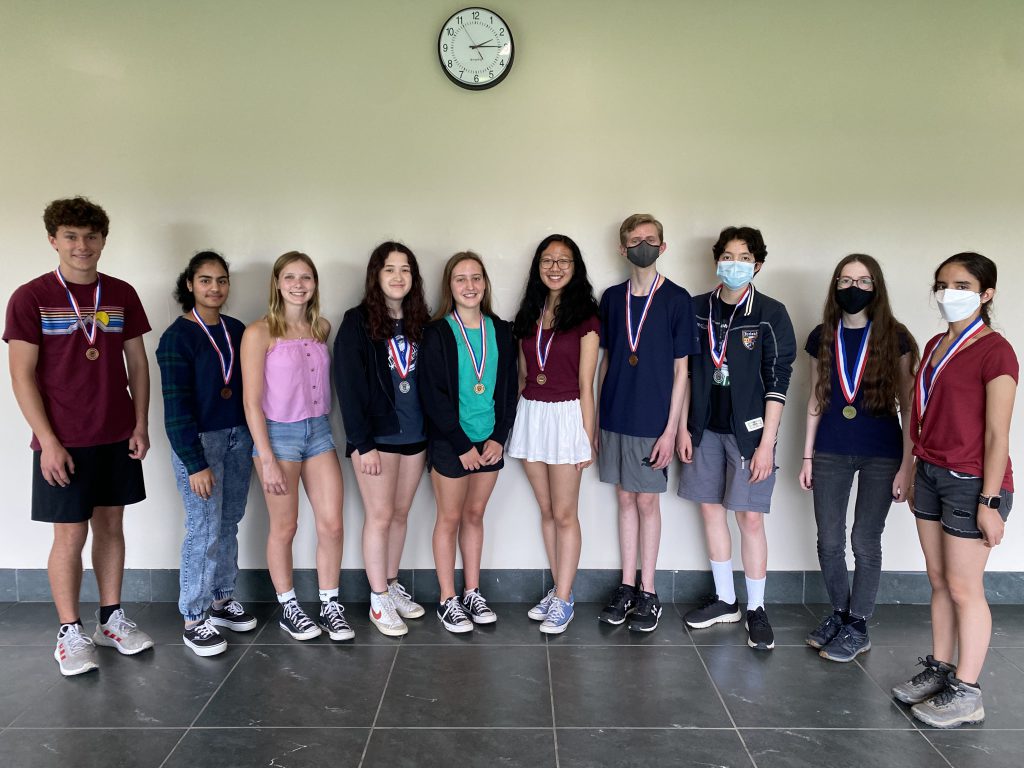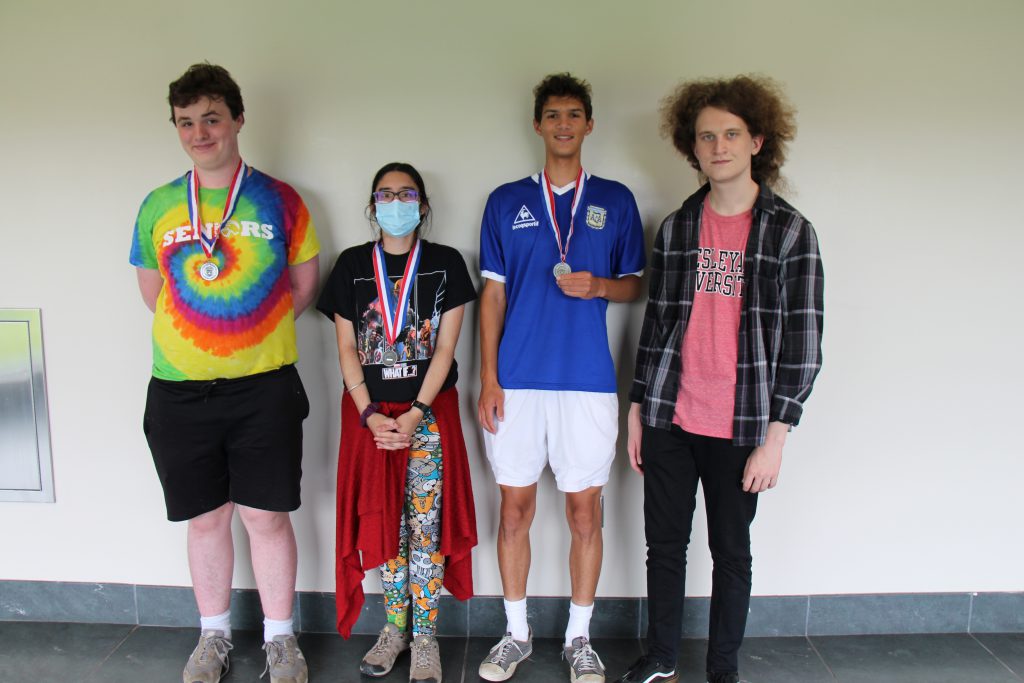 National Spanish Exam Medal Winners
Each year, many BCHS Spanish language students participate in the National Spanish Exams. The exams are sponsored by the American Association of Teachers of Spanish and Portuguese (AATSP) and are offered in schools throughout the 50 states and many other countries. Congratulations to the following students who are this year's 2022 National Spanish Exam medalists and honorable mention awardees (group photo below):
Level 3
Gold
Ryan Sood
Romeo Vashishth
Sabrina Vichaiwattana
Silver
Ansen Chamberlain
Yuna Chung
Nyle Dennin
Gabriel Martin
Dominic Norfleet
Kirsten Phang
Gabriella Raydo
Bronze
Maggie Alderisio
Margaret Buckley
Tyler Goldberg
Zoey McCarthy
Sean Ryan
Honorable Mention
Ryan Fenlon
Anthony Gibbs
Eva Ho
Benjamin Imbriaco
William Lauricella
Adam Levin
Adrian Lopez-Toledo
Owen Luntz
Emily Martinez
Grady Nautel

Dhara Patel

Purvayi Patil
Anna Walston
Level 4
Gold
Suzanna Amirbekian
Diego Clark
Jack Newell
Silver
Audrey Henson
Ronan Tiu
Dylan Vuille
Honorable Mention
Katie Brodeur
Jill DeCancio
Camella Douglas
Madeline Gallagher
Anna Kranson
Peter Landi
Patrick Murphy
Bronze
Level 5
Silver
Bronze
Honorable Mention
Eva Mane
Kaitlin O'Meara
Jianna Paggao
Sarah Syed