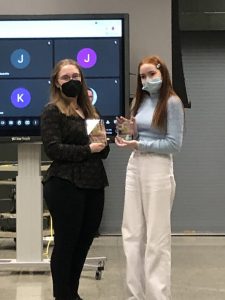 Eleven Bethlehem Central High School students competed in the 5th annual Poetry Out Loud competition on Friday, January 7th in the high school cafeteria. The competing students represented 9th, 10th, and 11th grades. The students recited a poem and were judged on six categories:
Physical presence
Voice and articulation
Dramatic appropriateness
Evidence of understanding
Overall performance
Accuracy
Four students advanced to the second round of the competition. Those students were Sofia Corts (Grade 10), Gabe Martin (Grade 10), Johanna Radcliffe (Grade 9), and Pamela White (Grade 11). After the second round of competition, the judges selected a winner and a runner-up, who will compete at the Regional competition next month.
Winner: Pamela White (3rd straight Poetry Out Loud win)
Runner-Up: Sofia Corts
The Poetry Out Loud Regional will be held virtually this year, and will air on February 26th and 27th. The top contestants from the Regional will be selected to perform at the NYS Poetry Out Loud competition in March.
Congratulations to Pamela, Sofia, and all our contestants!
The following is a list of contestants and the poems they competed with:
Round 1
Sofia Corts (10) – "Two Guitars" by Victor Hernandez Cruz
Nova DiRamio (9) – "Crossing a City Highway" by Yusef Komunyakaa
Katherine Ferreira (10) – "The Good in the Evil World" by Rebecca Hazleton
Sophia Imbriaco (10) – "Emily Dickinson at the Poetry Slam" by Dan Vera
Gabriel Martin (10) – "The Properly Scholarly Attitude" by Adelaide Crapsey
James Moore (10) – "the world is about to end but my grandparents are in love" by Kara Jackson
Johanna Radcliffe (9) – "won't you celebrate with me" by Lucille Clifton
Ned Reynolds (10) – "Pleasures" by Denise Levertov
Teagan Shea (10) – "The Days Gone By" by James Whitcomb Riley
Julia Siegel (9) – "War Ballad" by Stanley Moss
Pamela White (11) – "Candles" by Carl Dennis
Round 2
Sofia Corts (10) – "Self-Portrait" by Robert Creeley
Gabriel Martin (10) – "Windy City" by Stuart Dybek
Johanna Radcliffe (9) – "Proem" by Martin Carter
Pamela White (11) – "Oranges" by Roisin Kelly