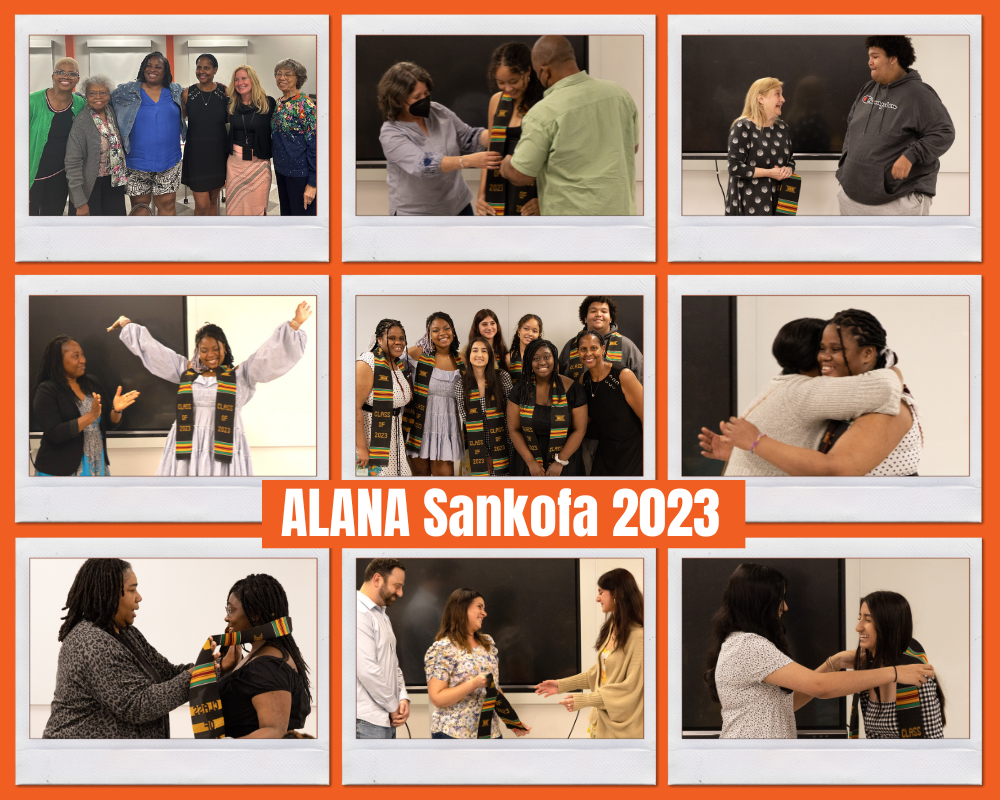 On Friday, June 16, students from the BCHS Class of 2023 who are members of ALANA (African, Latinx, Asian, Native American & Allies), took part in ALANA's fourth annual Sankofa. 
ALANA is a student alliance that promotes cultural awareness, inclusion, diversity, and leadership. It provides a safe and brave space to help navigate through school and life.
Introduced to BCHS by ALANA advisor and school counselor Dr. Lisa Carr in 2020, the rite of Sankofa celebrates an important transition for ALANA seniors. With its roots in Ghana, Sankofa provides ALANA students and their families an opportunity for reflection and celebration ahead of graduation. 
"I am proud of the ALANA members and their leadership over the years. This is one of my favorite evenings of the year. We celebrate, laugh, cry, and spend time with our students and alumni. These are precious moments and I am grateful for this wonderful celebration each year.
This year's ALANA seniors include:
Ella Baker
Marlisse Edwards
Toni McGee
Agnes Potenciano
Prova Rahman
Abiola Samuels
Peyton Roach
Jamuel Robinson
Briana Yanson
Dr. Carr served as host of the Sankofa celebration. She said the ceremony is very special because family, friends, and community members can share their memories and hopes for the future and can celebrate the accomplishments of each student.
The highlight of the Sankofa is a "donning ceremony" where students were presented with the equivalent of an ALANA honor cord: a colorful Kente stole each will wear at their graduation ceremony on Friday, June 23. The Kente stole is known around the world as a representation of West African culture featuring unique colors and patterns. A special family member or friend places the stole on the graduate and they are encouraged to express what the student means to their family.
Administrators, faculty and staff were also in attendance, including BCSD Superintendent Jody Monroe and Chief Diversity, Equity and Inclusion Officer Dr. Latisha Ellis-Williams.
"Dr. Lisa Carr has done an incredible job creating a community for students that extends beyond the walls of our high school and lasts long after they have graduated," said Superintendent Jody Monroe. "It's not unusual for the students of ALANA to return year after year to see Dr. Carr and to support their younger peers at Sankofa, or to see members of the greater community come out to cheer on these students. Sankofa is a wonderful event."
"The rite of Sankofa at Bethlehem Central School embodies the essence of multicultural student assets and reflected the diversity of the school community," said Chief Diversity, Equity and Inclusion Officer Dr. Latisha Ellis Willams.