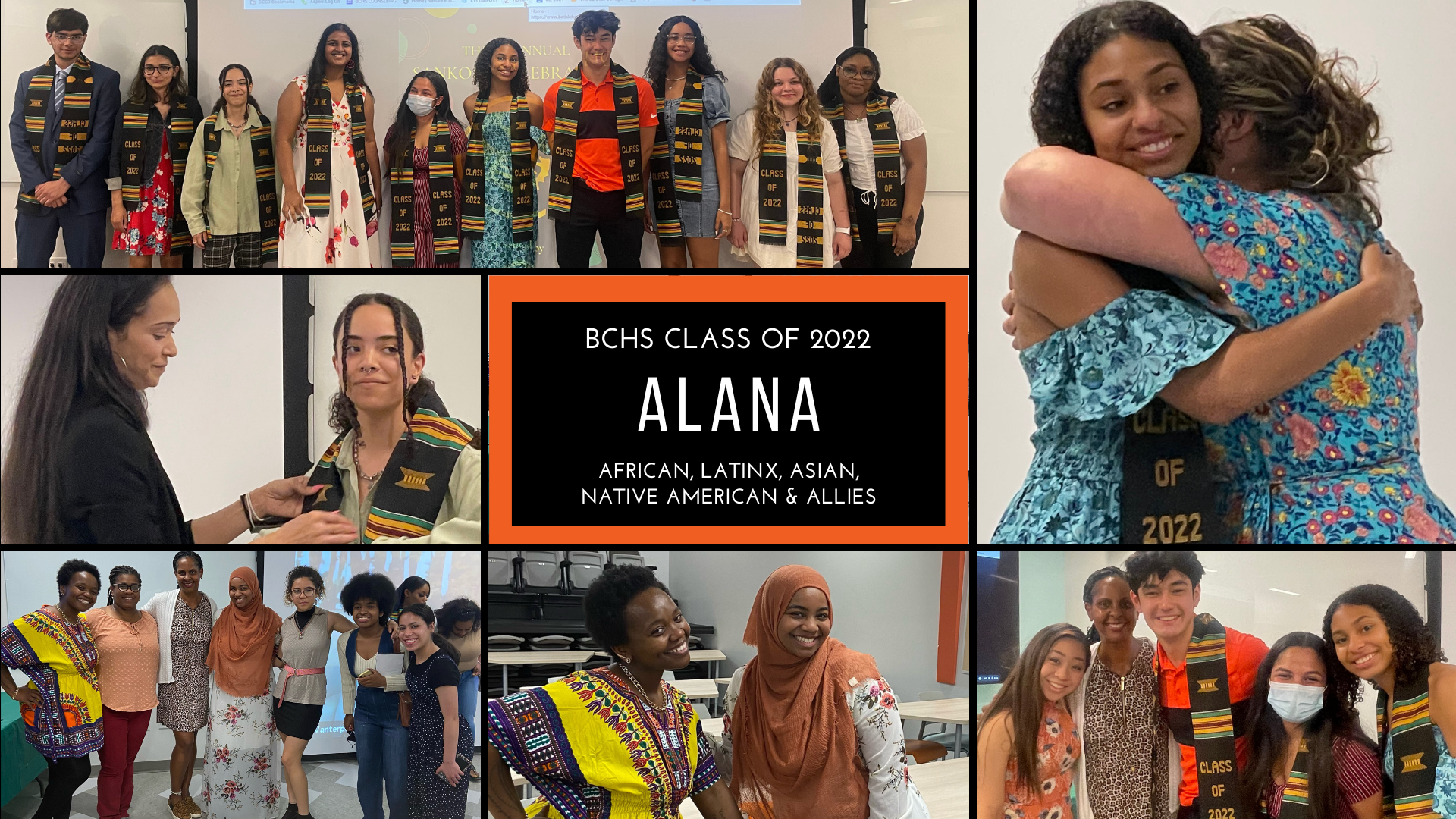 On Thursday, June 16, students from the BCHS Class of 2022  who are members of ALANA (African, Latinx, Asian, Native American & Allies) at BCHS, took part in ALANA's third annual Sankofa. 
ALANA is a student alliance that promotes cultural awareness and inclusion with a focus on leadership and college exploration. Members and advisors meet regularly to help one another navigate through ALANA-related topics and to provide leadership on important issues within the school community. 
Introduced to BCHS by ALANA advisor and school counselor Dr. Lisa Carr in 2020, the rite of Sankofa celebrates an important transition for ALANA seniors. With its roots in Ghana, Sankofa provides ALANA students and their families an opportunity for reflection and celebration ahead of graduation. 
This year's ALANA seniors include:
Orion Dennin   

Vijayasree Kakarala

Nicole Cintron Ortiz

Nia Hughes

Ayanna Bing

Nisa Kendir

Alyssa Rayne Jamieson

Starr Rodriguez

Sarah Singh

Ishaan Singh
Dr. Carr served as host of the Sankofa celebration.
District administrators, faculty and staff were joined by parents to celebrate the ALANA graduates. In addition, BC and ALANA alumni from 2007-2021 attended to share their own reflections, hopes and dreams with seniors.
"The graduates' stories and drive are impressive; the family pride is heartwarming," said teacher Nick Ferguson who attended Sankofa. "And the alumni are absolutely inspiring."
The highlight of the Sankofa is a "donning ceremony" where students were presented with the equivalent of an ALANA honor cord: a colorful Kente stole each will wear at their graduation ceremony on Friday, June 24. The Kente stole is known around the world as a representation of West African culture featuring unique colors and patterns. A special family member or friend places the stole on the graduate and they are encouraged to express what the student means to their family.
"It was an inspiring night of belonging and community with a group of students who clearly love, honor, and respect Dr. Carr," said high school teacher Preya Krishna-Kennedy.  "Dr. Carr has created and cultivated a community of support and inclusion that is so needed by our students of color. Thank you for sharing this night with us. It was truly magical."
In addition to providing a safe space for students, ALANA serves as the lead organization coordinating the Black History Month celebration for the district and proudly supports Asian American & Pacific Islander, Native American, and Hispanic Heritage months. ALANA members coordinated a storytelling program for elementary school students, participated in social justice and mindfulness workshops, and sponsored dynamic guest speakers including BC alumni and poet and author Miki Conn.
"For some students, ALANA and the Sankofa ceremony is what causes them to look back with love on Bethlehem and realize how much they gained while here," said teacher Eileen Turo.  "It is one of my favorite nights of the year."
"There was such an outpouring of love for the students, their parents and guardians, and especially for Dr. Carr, who made all this possible," said staff member Karen Ballard. "This is something I am hoping to be a part of every year."