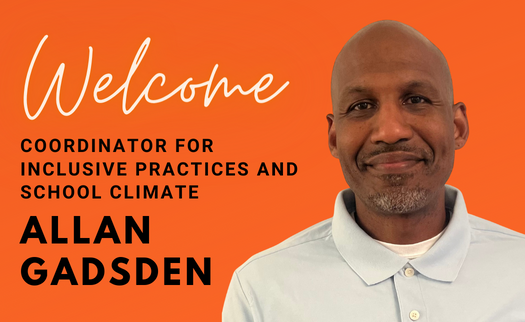 At its September 6 meeting, the Bethlehem Central Board of Education officially appointed Allan Gadsden, Jr. as the district's Coordinator for Inclusive Practices and School Climate.
The Coordinator for Inclusive Practices and School Climate will work with district stakeholders to develop and implement programs that foster the success of all students and create a positive, welcoming learning and working environment for both students and employees. The position is new to the district.
Gadsden comes to Bethlehem from the Watervliet City School District, where he served as that district's Family Outreach Coordinator for the last four years. He was also a member of Watervliet's diversity committee where he monitored national trends and district trends on diversity and worked with committee members to identify and implement long-term solutions to district concerns.
Previously, Gadsden worked for more than a decade in the Niskayuna Central School District and Albany City Schools in a variety of classroom settings from physical education and special education to supporting at-risk students.
A proud native of Queens, NY, Gadsden will bring his expertise as a district liaison between school and home for students and families to help create a stronger school community within the Bethlehem schools.
"I look forward to the positive challenge of building on what is already good here in Bethlehem," said Gadsden. "I love new beginnings and a fresh outlook. Inspiring and motivating is my life's work and I am excited to bring that kind of mindset to BC students, and to staff, across the district."
In his role as Coordinator of Inclusive Practices and School Climate, Gadsden will oversee the district-level and building-level Equity Committees to develop and refine plans that support the diversity, equity, inclusion, and sense of belonging for all students. 
Gadsden will also provide individual schools with feedback to support culturally responsive classrooms and will work with building leaders to ensure school operations and practices meet the needs of students and families based on different cultures and backgrounds.  
Superintendent Jody Monroe said that an important part of the new Coordinator for Inclusive Practices and Student Climate role is serving as a liaison between students, families, and school personnel with an emphasis on student advocacy.
"This role has been designed to align with the goals outlined in our strategic plan, and Allan Gadsden's experience and enthusiasm will help us advance those goals," said Monroe.
"Allan has had great success in other districts in establishing an easy, approachable rapport with students, especially those who may feel alienated or alone at school," said Superintendent Monroe. "With that dialogue comes the ability to turn student concerns and obstacles to success into improved policies and practices that can better serve the needs of the entire school community."
For his part, Gadsden said he is looking forward to meeting students at each of the district's seven schools. 
"Being around kids and making important connections with them is why I got into education," said Gadsden, a fitness coach who uses his love of health and wellness to inspire students. "Exercise and movement are often keys to social and emotional growth. I am excited for the opportunity to enrich the lives of students in many ways at the high school, middle school, and at the elementary level."
The appointment is effective immediately. Students, staff and parents may reach out to Mr. Gadsden through email at: agadsden@bethlehemschools.org.