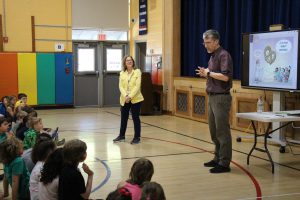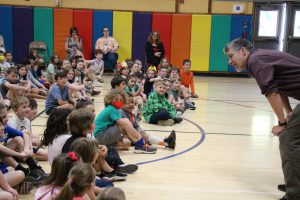 What do you get when you ask a group of second and third graders for inspiration in creating a somewhat lovable villain for your children's book? If it's close to lunchtime — and you are a popular author and illustrator — you may find yourself sketching out a character you hadn't quite thought of before.
"I don't think I've ever drawn a flying robot pretzel so we're going to see how that goes," said Matt McElligott, author and illustrator of more than a dozen children's books, including the Mad Scientist Academy and Blackbeard series.
McElligott was at Hamagrael Elementary School recently to talk with students about his work and show them the creative process in action. McElligott's visit was sponsored by the Hamagrael PTA and organized by library media specialist Pam Held. 
Students gave the author a warm welcome by decorating the school entrance and displaying versions of their own illustrations based on their favorite McElligott books in the hallways.
McElligott spent the time with students in all grades, discussing how he does research for his books, and showing them how he uses his iPad and the illustration app called Procreate to make his characters leap off the page.
The app helped McElligott add vivid detail and color to the "flying robot pretzel" he sketched on the spot after asking students which lunch item he could use as inspiration for an invention-turned-monster.
In addition to showing the students how technology like an iPad and the Procreate app help him with his illustrations and book designs, McElligott also answered several questions from the students throughout the day.
The answer to one question in session for grades two and three made the students, and the adults in the room, sit up and pay attention.
"Why did you start making books?" a student asked from the back of the gymnasium.
The answer the author gave was simple and relatable.
"I can remember one of the first stories I got really excited about reading," said McElligott. "It was a rainy day and I was stuck inside and I read a book called Fantastic Mr. Fox by Roald Dahl.
"I read it all in one day. When I was done reading it, do you know how I felt?" he asked. "Terrible. I felt terrible. You know why? Because I enjoyed that book so much and all of a sudden, I knew I wasn't going to have those characters anymore. They were gone."
McElligott said it was in that moment that he took out a piece of paper and a pen and began to create his own characters and write his own stories.
"I thought, you know what, I have the same tools as Roald Dahl. I can do this," said McElligott.
In addition to talking with students, demonstrating the illustration process and answering dozens of questions, the author also signed books for students.
Thank you to Matt McElligott, to Mrs. Held, and to the PTA for making this very special experience possible for our students. 
To learn more about Matt McElligott, visit the author's website.