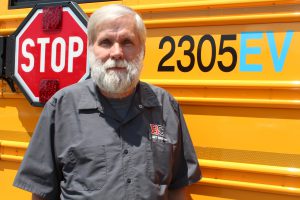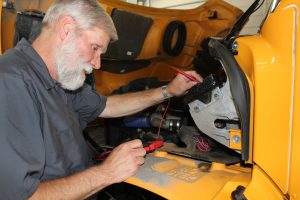 Longtime BC transportation employee Raymond Ginter, who works as an auto mechanic for the district,  has been named a "Garage Star" by a national trade publication. Ginter is featured in the August 2023 edition of School Transportation News magazine.
Ginter is one of 10 school transportation technicians from across the country who have been singled out for their dedication to the community and for going "above and beyond their vehicle maintenance job descriptions to help students get to and from home safely."
Raymond Ginter has worked for the district since 2001. In addition to helping maintain 100 school buses  (including seven electric buses) and other service and grounds vehicles, Ginter has become a leader in the department on issues involving advancements in technology that are helping the district become more efficient and environmentally friendly.
Congratulations to Ray Ginter on this well-deserved honor!
Read the profile of Raymond Ginter in the Aug. 2023 edition of School Transportation News.