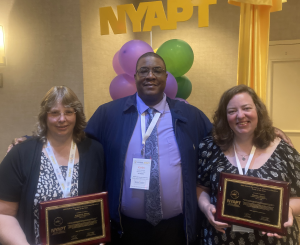 Bethlehem Central School District bus driver Danika Raup and bus attendant Annette Moak have been named School Bus Driver and Attendant Team of the Year by the New York Association for Pupil Transportation (NYAPT).
The award was presented to Raup and Moak at the NYAPT Annual Conference, which was held last week in Saratoga Springs. The statewide honor recognizes a driver/attendant team that "exemplifies the characteristics of excellence and quality and whose work results in a safer school bus ride and environment for our children."
Raup and Moak have a combined 43 years of experience working with students of the Bethlehem Central School District.
Raup is an experienced driver who also serves on the Bethlehem Central Bus Education and Safety Team (BC BEST). She trains other drivers as a certified School Bus Driver Instructor and is working to become a 19-A Examiner/Driver Trainer.
Moak, known as Annie, is well-known for her ability to handle difficult situations and conversations. She is often tapped by the Transportation Department as a valuable resource when it comes to training new bus attendants. Moak also works with students as a noon aide at Elsmere Elementary School.
Both Moak and Raup were nominated for this year's NYAPT award based on their demonstrated compassion for their students and their support for one another.
Congratulations to this hardworking — and caring — team of professionals!