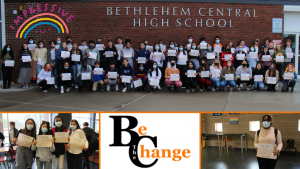 At Bethlehem Central High School, there are many students who are making a difference at school and at home. Each month, some of these students are recognized for acts of kindness or displaying character strengths that make them role models among their peers. At the high school, these students are a big part of the school's "Be the Change" mantra, where they make setting high standards for their peers look easy.
Congratulations to the first group of students recognized in the 2021-22 school year! They are:
Ayala, Julian
Ayar, Ceren
**Baldwin, Elizabeth
Beberwyck, Rose
Berlin, Sophia
Boyer, Katie
Bughrara, Nyara
Burzesi, Thomas
**Cintron Ortiz, Nicole
Dailey, Patrick
Danziger, Margot
Davenport, Paige
Davis, Robert
DelBene, Rowan
Donovan, Sean
Doolen, Piper
Douglas, Camella
DuPont, Frank
Dzigba, Joy
Field, Griffin
Gallagher, Madeline
**Gambelunghe, Isabella
Grimaldi, Luke
Hammond, Rachel
He, Charlie
Hill, Emma
Holbrook, Nat
Hoogkamp, Izzy
Hu, Fay
Jamieson, Rayne (Alyssa)
Johnson, Francie
Kakarala, Vijayasree
Kalam, Anika
Kirby, Andrew
Koch, Liam
Koller, Drew
Landers, Isabel
Lee, Megan (Ka Yee)
Leonard, Kara
Levin, Kyla
Maher, Elizabeth
Martin, Cole
Mazmanian, Lily
McCann, Emily
McCue, Isaiah
**Mertik, Peter
Moore, Emma
Munn Jr., Jeremy
Ofori, Eric
Pokabla, Ellie
Russom, Molly
Samuels, Nataliah
Schrempf, Christine
**Soka, Sophia (Rosamond)
Spada, Emily
St. Cyr, Jackson
Stebbins, Lyla
Swinyer, Haley
Tootell, August
Vatter, Jackson
Wright, Haley
Zheng, Jeremy
Zheng, Winny
Our "Be the Change" students are automatically entered to win gift cards. Those awarded gift cards are noted below with a ** next to their names.