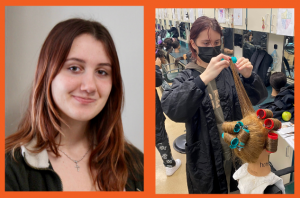 BCHS junior Elaina McGrath is heading to Syracuse to compete in the New York State SkillsUSA competition in cosmetology. McGrath earned the trip to the state-level competition with a first-place finish at the regional SkillsUSA event. She studies cosmetology as a Career and Technical Education (CTE) student at Capital Region BOCES.
McGrath will compete against other regional winners from across the state as they demonstrate their skills in hair color, haircutting, and hairstyling. 
The NYS SkillsUSA competition is being held April 27-28 at the New York State Fairgrounds. SkillsUSA is a nonprofit national education association in partnership with teachers, students, and industry leaders who work with students to prepare them for careers in trade, technical, and skilled service occupations. 
McGrath says that she enjoys the creative side of hairstyling but says she's not sure yet if she will make it a career despite her success so far.
"I may want to study forensics," said McGrath. "I plan to go to college so I could always do hair on the side.  I guess we'll see."
Best of luck to Elaina as she heads to Syracuse!