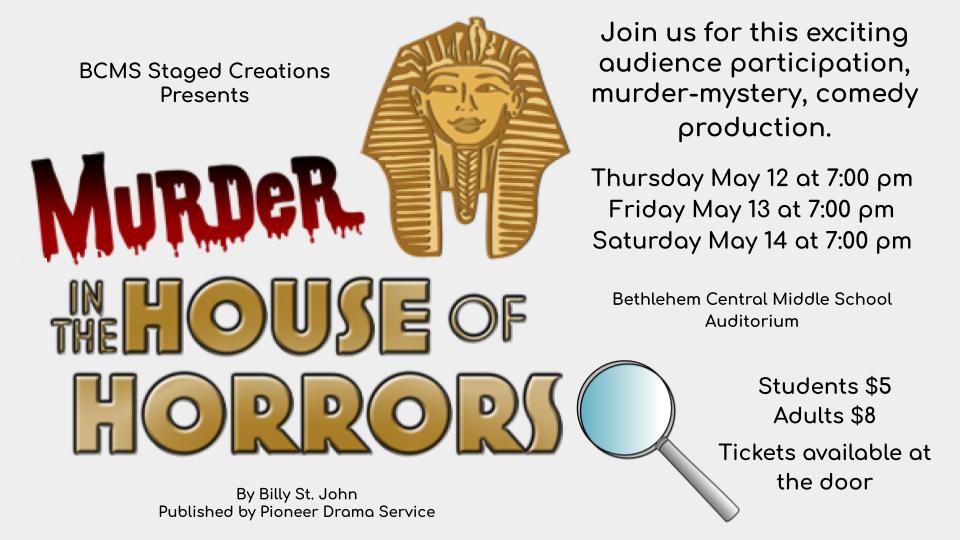 Join us for this year's BCMS Staged Creations production of Murder in the House of Horrors by Billy St. John, an audience participation murder-mystery comedy.
You are invited to the Bethlehem Museum's lecture on 'Monsters, Murderers and Madmen' given by the famed Egyptologist Professor Dirk Carlton. He will share his discovery of the tomb of Menkaura and discuss the amazing artifacts found within like the priceless jewel, the Eye of Uadjit. Additional exhibits will be on display for your perusal. Museum patrons, visiting dignitaries, and Bethlehem residents will be in attendance. With such a wonderful evening of events planned, nothing could possibly go wrong … Or could it?
Show dates are:
Thursday, May 12, 7 p.m.
Friday, May 13, 7 p.m.
Saturday, May 14, 7 p.m.
Tickets are $5 for students and $8 for adults. Tickets will be available on show nights beginning at 6:15 p.m.