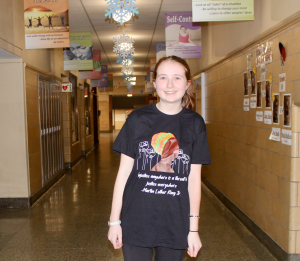 Congratulations to Bethlehem Central Middle School student Jude MacLaughlin, who designed this year's Black History Month t-shirt. Jude was among 19 students to submit an entry as part of this year's design contest.
The t-shirts arrived just before the February break and are a favorite of teachers, counselors and staff. MacLaughlin was presented with a t-shirt on Friday, Feb. 17 and had this to say about their design:
"I  feel like women sometimes get overlooked during Black History Month so I wanted something to represent women of color," said the eighth grader. 
Congratulations, Jude!