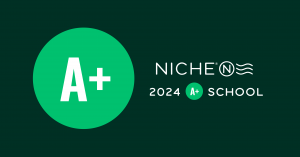 The Bethlehem Central School District is celebrating an A+ rating and a ranking as the #1 Best School District in the Albany Area as part of the Niche 2024 Best Schools list. Niche is the market leader in connecting colleges and schools with students and families through its in-depth profiles of every school and college in America.
Niche also ranked Bethlehem #28 of 672 Best School Districts in New York and #66 (of 11,822) for having the Best Teachers in America.
The annual rankings are based on analysis by Niche staff of key statistics from the U.S. Department of Education. The data, along with millions of reviews from students and parents that Niche publishes on its online platform, are used to determine the rankings. Ranking factors include state test scores, college readiness, graduation rates, SAT/ACT scores, teacher quality, public school district ratings and more.