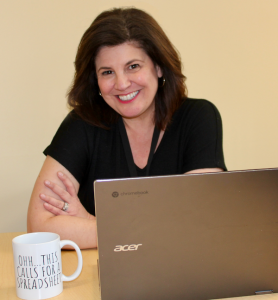 At its April 19 meeting, the Board of Education is expected to name Jennifer Szpila as director of student support services for the Bethlehem Central School District. Szpila currently serves as elementary assistant principal in the district, serving all five elementary schools.
As director of student support services, Szpila will work closely with administrators, teachers, parents, and community members to identify and address the academic, social, emotional, and behavioral needs of all students in grades K-12.
The position of student support services director is new to Bethlehem. It was established as part of an effort to integrate the coordination of the full spectrum of support services available to students K-12, including special education, counseling, social work and instructional supports. The timing of the restructuring coincides with the announcement that longtime director of special education and student services (SESS) Kathleen Johnston will be retiring at the end of the school year. Szpila's position will be effective July 1. 
"The position has shifted to create a bridge between general education programs, special education, and social-emotional learning programs under an umbrella of Student Services that will support all students," said Szpila. "The Student Services Team will include the assistant director of special education, the assistant director of instructional support services, and the supervisor of counseling. Together, we will work to develop systems and programs to effectively serve the students of Bethlehem."
Szpila said with the creation of the Student Services Team, students and families will see a robust continuum of services. All students will have the ability to access support services whether they have been identified as having a learning disability, or are in need of some other type of support to participate in general education programs successfully. 
"The new position is mission-driven and so is Jennifer Spzila," said Superintendent Jody Monroe. "In just a short time here at BC she has demonstrated her commitment to our mission of ensuring every student has the opportunity to reach their potential. Our new Student Services Team will get off to a strong start with Jen's keen insight and leadership."
Spzila has been the elementary assistant principal in Bethlehem since January 2022. In that time, she has successfully worked with elementary teachers and administrators to implement MTSS (Multi-Tiered System of Supports) which integrates academics with social-emotional learning and behavioral learning.
Prior to coming to BC, Szpila worked in the South Colonie Central School District as an administrative dean and a Committee on Special Education (CSE) chairperson addressing the individualized education plans of students at the middle school level. She began her career in education in the Albany City School District as an elementary teacher and reading specialist.
Szpila said she looks forward to expanding her student support work to include both elementary and secondary students and to building relationships with instructional staff and administrators at all levels.
"Our shared challenge is to identify learning gaps and target those areas in a systematic way," said Szpila.  "A continued focus will be to provide early intervention programs for our youngest students, setting them up for success as early as possible and providing services and support that will build a solid foundation for future learning."
Szpila holds a bachelor's degree and a master's degree in education from The College of St. Rose, and an educational leadership certificate from SUNY Stony Brook.