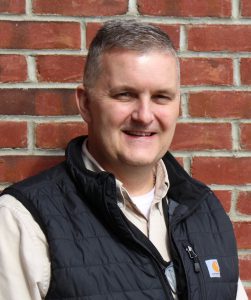 At its April 6 meeting, the Bethlehem Central Board of Education is expected to appoint Nick Insognia as Director of Facilities and Operations. Insognia has served as Assistant Superintendent for Buildings & Grounds in the district for four and half years. He replaces Gregg Nolte who retired in 2021.
In his new role at BC, Insognia will manage the Operations and Maintenance Department and its 58 employees. The department provides cleaning, routine maintenance, snow removal and groundskeeping across nearly 1,000,000 square feet of building space, including 400 classrooms, and more than 200 acres of land. Insognia will also oversee capital construction projects and will ensure the district is complying with all New York State Education Department (SED) health and safety regulations. The department also handles all deliveries within the district.
Insognia said he is looking forward to continuing the success O & M has had in supporting the district's mission and its core values of academics, character, community and wellness.
"At O & M, we are dedicated to providing a safe, secure, clean and healthy learning environment for the thousands of students and staff we serve on a daily basis," said Insognia. "Our commitment extends to the greater community which is so strongly invested in the long-term success of our students."
Looking ahead, Insognia says the greatest challenge will be ensuring the capital project approved by voters in October 2021 is completed with minimal disruption to the educational program. Careful planning, he said, will be required to address the uncertainty of supply chain issues and necessary SED approvals in order to keep the construction projects on schedule. 
When Insognia arrived at BC, he already had more than a decade of leadership in facilities management. He served as Director of Facilities for the Schenectady City School District for nine years and prior to that, served as Director of Facilities at The Sage Colleges for three years.
"Nick Insognia came to us with a wealth of knowledge and experience and we are excited that he will continue to be part of our team in this new role," said Superintendent Jody Monroe. "He will be instrumental as we continue to build an even better BC for current and future generations of students."