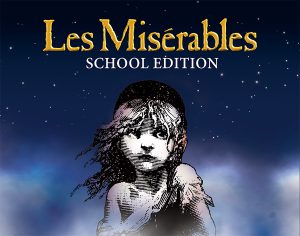 We are thrilled to announce that Stage 700 students will storm the musical barricade with Les Misérables School Edition April 7- 10, 2022. 
Winner of over 100 international awards, and seen by 8.5 million people in New York alone during its run from March 1987, through May 2003, Les Misérables is the world's longest-running musical and the third longest-running musical in Broadway history. This musical phenomenon is an epic tale of passion and redemption in the throes of revolution. 
This epic story of Les Misérables recounts the struggle against adversity in 19th century France. Les Misérables School Edition is a version of the classic musical by Alain Boubil and Claude-Michel Schöneberg, based on the novel by Victor Hugo.  The music is by Claude-Michel Schöneberg, with lyrics by Herbert Kretzmer. The show features original French text by Alain Boubil and Jean-Marc Natel, with additional material by James Fenton.  It is adapted by Trevor Nunn and John Caird, with original orchestrations by John Cameron, new orchestrations by Christopher Janke, Stephen Metcalfe and Stephen Brooker. Les Misérables was originally produced by Cameron Mackintosh. The School Edition is specially adapted and licensed by Music Theatre International and Cameron Mackintosh (Overseas) Ltd.
We can't wait for you to join us back at the theater! 
Auditions will be held in January 2022. 
For upcoming information, visit our website www.bcstage700.org or follow us on Instagram @bcstage700