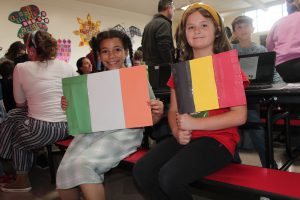 Did you know that Halloween originated in Ireland as the Celtic festival of Samhain? Were you aware that the first country to mine diamonds was India?
If you were lucky enough to score an invitation to Slingerlands Elementary School's Countries Around the Globe celebration you would have learned these fun facts and much, much more.
That's where third graders in Ms. Link, Mrs. Reiss and Mrs. Fitzpatrick's class got to chat up the parents and special visitors about their in-depth research projects. 
View the Countries Around the Globe photo album on Facebook.
The students spent about three months using books and the Internet to research countries across the continents. The project combined learning across two disciplines: the country research unit that is part of the third-grade social studies curriculum and the English Language Arts informational writing unit.
"They used books and the Internet to research their chosen country," said teacher Samantha Link. "They found facts, wrote them into a cohesive paragraph, typed it, and then found pictures! They researched the country's geography, people, culture, politics, and plants/animals.
"We learned about the United States first and then we compared and contrasted our country to the other countries that they chose," added Link. "Many students had a connection to the country that they chose, whether their family is from there or a family member had visited the country."
We are proud of our students for their hard work!