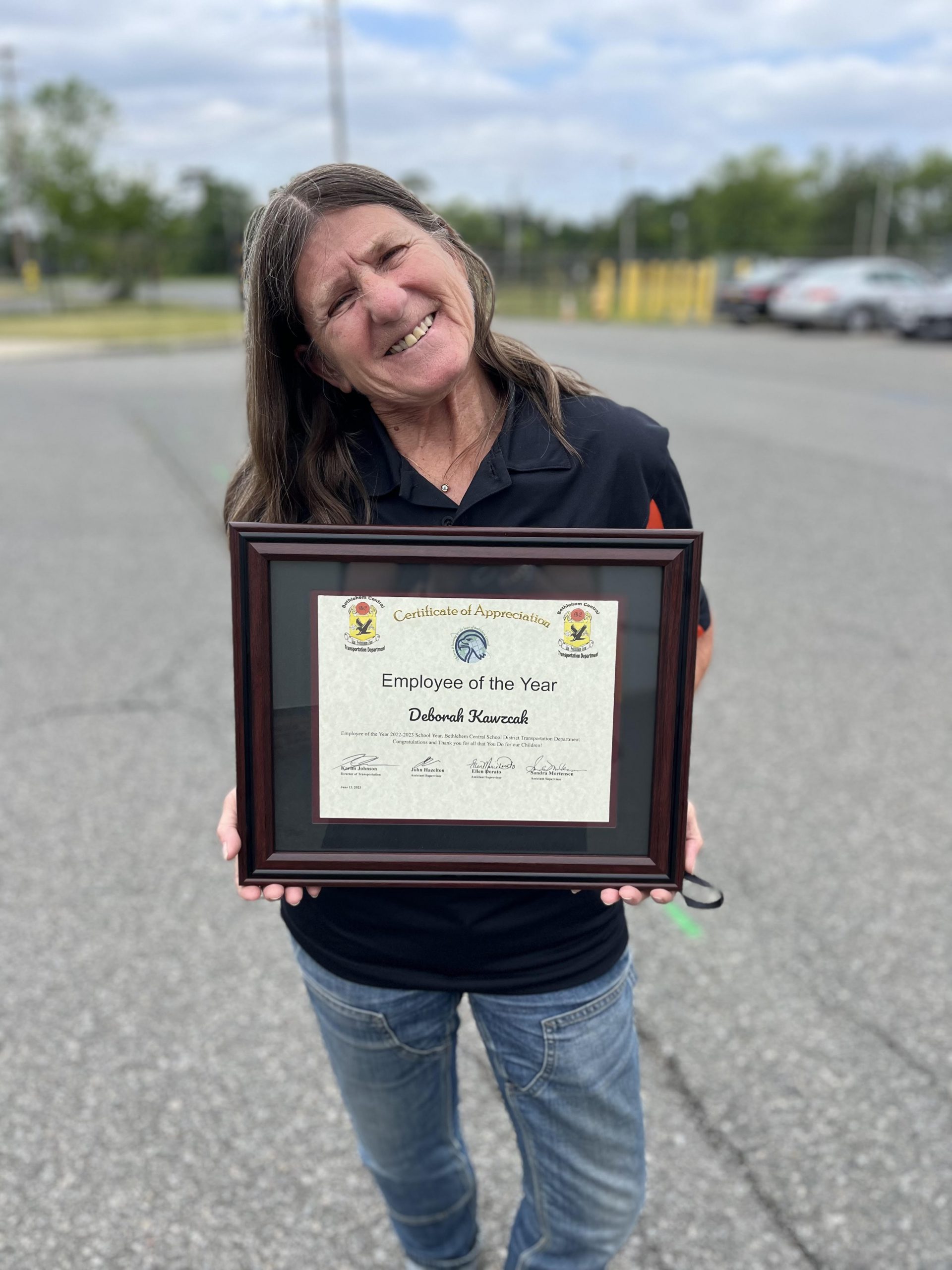 The Bethlehem Central School District Transportation Department has named Debbie Kawczak as its 2023 Employee of the Year. The award was announced during the department's annual end-of-year luncheon.
Kawczak has served BC as a professional school bus driver for over two decades and will retire at the end of the school year. As a member of the Bethlehem Central Bus Education Safety Team (BC BEST), Kawczak has had an active role in educating students on school bus safety, helps create educational online bus safety content, as well as attends events where she educates community members on electric buses.
"It is rare to find someone more dedicated to her job and loyal to her students than Debbie," said Sandra Mortensen, Assistant Director of Student Transportation. "Deb goes above and beyond the duties of her position;  she rarely misses a day of work, she's a daily support to and cheerleader for her students."
Kawczak is known for the kindness and compassion she has shown for students past and present. As a former award winning athlete herself;  Debbie can often be found in the stands cheering on the next generation of BC athletes. She also attends her students' concerts and plays, offering a consistent presence of devotion and support.
"To be considered for Employee of the Year an employee must demonstrate an excellent attitude, excellent work ethic and be a team player," said Karim Johnson, Director of Transportation. "Debbie far exceeds these expectations on a daily basis. She has been an exemplary employee in every way and we thank her for her 21 years of impeccable service and wish her a very happy retirement! She will be greatly missed by students and staff alike."
Congratulations on being named Transportation Employee of the Year, Debbie! And, congratulations on your retirement!
Other awards and honors were also announced at the annual luncheon including:
Perfect attendance award: Rob O'Donnell

NYAPT Driver/Attendant Team of the Year Award: Danika Raup and Annette Moak (this statewide award will be presented to Raup and Moak in July by the New York Association of Pupil Transportation). Watch for more information this summer.

Garage Stars Award: Maintenance mechanic Raymond Ginter will be featured in the August edition of national publication School Transportation News as one of the nation's Top 10 "Garage Stars." Watch for more information this summer.

100% Maintenance Record: Four years in a row, the BC transportation maintenance team has earned a 100% rating from the NYS Department of Transportation (DOT) on its safety and maintenance inspections.