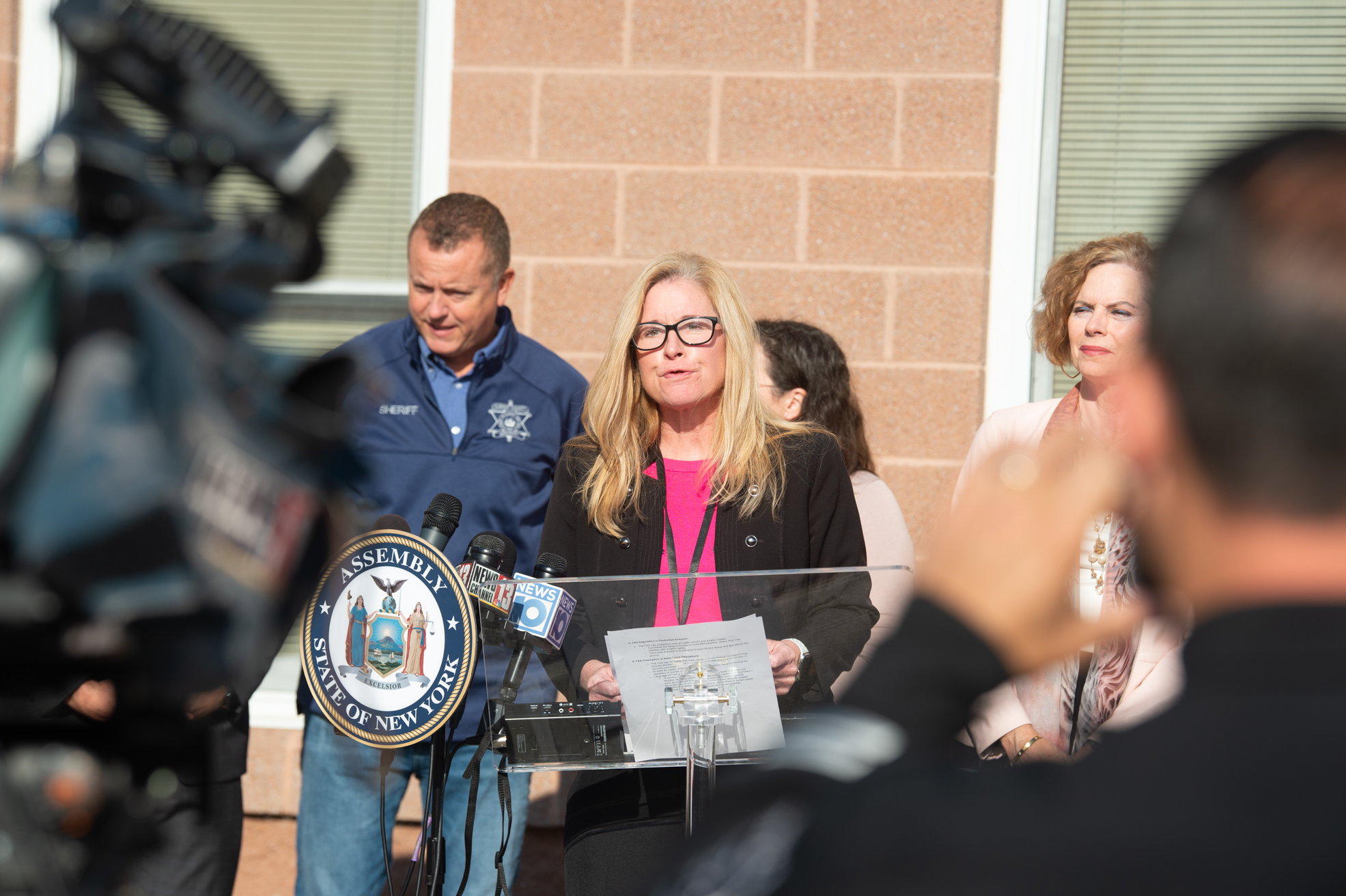 The Bethlehem Central School District today hosted a press conference to announce new state legislation aimed at protecting school grounds and critical infrastructure from unauthorized drone operations. Assemblymember Patricia Fahy introduced the statewide bill in the Assembly following a call for legislation from Superintendent Jody Monroe as a result of an incident on Oct. 12 in which a drone was spotted over Slingerlands Elementary School and Eagle Elementary School. 
The morning press conference was held outside Eagle Elementary School.
Senator Neil Breslin, who represents the school district in the state Senate, is the chief sponsor of the same legislation in the Senate.
From WTEN: Bill introduced to restrict drone use around schools
The legislation would prohibit operating an unmanned aircraft over school grounds or critical infrastructure under 400 feet when done intentionally or knowingly and when operated without the express consent of the school administrator or designee, or the entity responsible for critical infrastructure. Additionally, the legislation would prohibit drones from contacting any person or causing a disturbance that interferes with school or critical infrastructure activities.
Currently, there are no state laws, rules, or regulations in New York surrounding drone operation or use over schools or critical infrastructure, defined in the bill as electrical power generation or delivery systems, refineries, chemical manufacturing facilities, pipelines, storage facilities, and drinking water treatment plants. However, if a drone operator is causing a public safety disturbance that can endanger an aircraft or people on the ground, the FAA can fine that person up to $30,000 and have their license suspended or revoked.
"We appreciate Assemblymember Fahy and Senator Breslin's quick response in drafting this critical legislation," said Superintendent Monroe. "Technology continues to advance rapidly, and with that advancement comes new challenges. As we discovered less than two weeks ago, in New York, there are no laws that prohibit the use of licensed drones around schools. This is deeply unsettling. While drones can be useful pieces of technology, it's crucial that schools and law enforcement have the tools they need to effectively keep our students safe. By establishing clear guidelines regarding drone use, this legislation will give schools protection that does not currently exist. Maintaining a safe environment for our students is our top priority and we will continue to work together to safeguard our school community."
Also in attendance at the Thursday press conference were Board of Education president Holly Dellenbaugh, Board member Katherine Nadeau, Eagle principal Dianna Reagan, Bethlehem Chief of Police Gina Cocchiara and members of her staff, and Bethlehem Town Supervisor David VanLuven. Albany County Sheriff Craig Apple and Deputy County Executive Daniel Lynch were also at the event.
"At a time when safety concerns are a top concern of parents, the use of any unauthorized drone over a school is unacceptable and poses potential threats to privacy and security," said Assemblymember Fahy. "I commend the Superintendent for alerting us to this problem and I'm pleased we could act immediately to address it. This legislation will prohibit the unauthorized operation of drones below 400 feet over school grounds or critical infrastructure, and when unmanned aircraft are close enough to cause a disturbance to or interfere with school or critical infrastructure activities. It's common-sense legislation that will provide peace of mind for families of BCSD students and faculty, improve statewide security for our schools and critical infrastructure elements, and establish clear guidelines around responsible drone use in New York State more broadly." 
The legislation (S.7723) is awaiting a bill number in the Assembly.