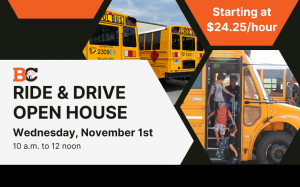 Thinking of a new career or a return to work post-retirement? Consider joining the BC Transportation Team and work for the top school district in the Capital Region. You do not need a commercial license to apply. We offer free training and a starting hourly rate of $24.25.
Not sure about driving a bus? Try it for yourself. 
You can TEST DRIVE a school bus or just TAKE A RIDE on the bus with one of our experienced drivers. You can attend our Open House and learn more about what it takes to be a bus driver in Bethlehem. 
BC Ride & Drive Open House 
Wednesday, Nov. 1 from 10 a.m. to 12 noon
BC Transportation Department, 82 Van Dyke Road, Delmar, NY 12054
You must make an appointment to attend. Prospective drivers must to be 21 years of age with a clean driving record. Drivers work flexible, part-time schedules and begin at a rate of $24.25 an hour. There is also a retention bonus of $1,000 after one year on the job. Eligible candidates will receive paid training to earn a commercial license. The hourly rate for training is $20/hr. 
Make an appointment today!  Call the Transportation Department to schedule or for more information 518-439-3830.