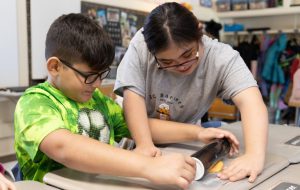 Third-grade students at Elsmere Elementary got quite the treat when students from the BC Barkery visited Mrs. Sericolo's class before Thanksgiving. The group shared the recipe behind the success of the popular BC Barkery dog treats. 
Students with the BC Barkery gave a presentation on what the Barkery business does, making dog treats from scratch and selling them so pups in the community can enjoy. High School Senior Nicholas Sammon said he enjoyed helping the elementary students learn the process.
"I liked helping the kids make the dog treats. It's a good learning experience for them," Sammon said.
One group of BC Barkery students showed the third-grade class how to roll the dough, cut out the shapes for treats and prep them for baking. Another group showed how to package the treats and create signs.
"It was cool," said Amare Harris, a third-grade student. "It was a really fun activity to learn how to do it."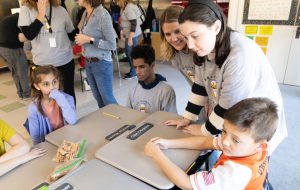 Classroom Teacher Joanne Sericolo is thankful the students staff with the BC Barkery for the lesson.
"It was a great learning experience for them to see the different stages that take place in this business and how that rolls over to other businesses," said Sericolo. "How exciting it is that all of these adults came together and made this happen for the kids."
The prepped treats were brought back to the high school for baking and to eventually be enjoyed by lucky dogs in the region.