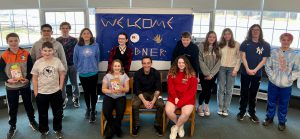 Who invented the high-five? You probably never thought about it but the handshake alternative dates back to the 1970s and is credited to Los Angeles Dodgers players Dusty Baker and Glenn Burke who high-fived one another following Baker's 30th homerun of the 1977 season.
It's not Baker but the "five-tool talent" Burke who serves as the inspiration for a memorable book for middle schoolers entitled A High Five for Glenn Burke by author Phil Bildner.
Bildner visited Bethlehem Central Middle School on Tuesday, Mar. 28 to talk to students about his book. The story follows a baseball-obsessed middle schooler named Silas through his own self-discovery as he learns about the hardships endured by Burke, who was Major League Baseball's first openly gay player. Silas finds lessons from the past and support in his own life as he struggles to come out as gay.
Thank you to Phil Bildner, BCMS Library Media Specialist Silvia Lilly, and the BCMS PTO for making this special event possible. The visit was also partially funded by a $500 Holiday Match grant from Stewart's Shops.