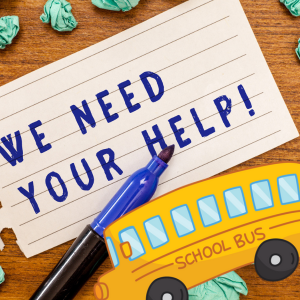 An important message for HS families: Help us create more efficient bus routes
We are asking parents and guardians K-12 to register their child(ren) for bus transportation in Aspen if they will need to take the bus in the fall. It is very important for the district to have accurate information so our Transportation Department can create efficient bus routes. Efficient routes at every level are necessary to reduce the need to cancel routes when staffing levels become a concern. At the high school, the district needs the help of parents and guardians to get accurate ridership numbers for the fall.
If your child is eligible for transportation, please ONLY check "yes" if your child will need to ride the bus in September. If you check "no," you can always change your choice later in the school year if your child needs to ride the bus. 
How to complete your child's bus registration in Aspen.
"Last year, the data showed that we had hundreds of families at the high school register their child for bus transportation when they may not have needed it," said Student Transportation Director Karim Johnson. "Unfortunately, we don't have a cushion of extra staff necessary to cover routes without riders. With better data, we can create more optimal routing that puts less of a strain on staffing. For those who are tempted to save a seat by checking 'yes' at the beginning of the year, we are asking you to consider waiting to request transportation until the time your child needs it."
Johnson said in 2022-23, a total of 731 high school students registered for morning transportation and 880 students registered for afternoon transportation. He said actual ridership at the high school was much lower. The highest ridership date, Johnson said, was on January 19, 2023, when 478 students took the bus home in the afternoon. The lowest ridership at the high school was on June 7, 2023 when 204 students took the bus in the afternoon. Johnson said the numbers fluctuate from day to day but that average daily ridership (AM or PM) was usually somewhere between 301-399. 
"At the middle school and elementary levels, our bus registration numbers in Aspen have been much closer to actual ridership data," said Johnson. "We are hoping to see the same at the high school. We understand that planning for teenagers is not always easy, but we do want families to know it is much easier for our department to add individual riders when needed than to schedule entire bus routes around passengers who don't show up. Please help us with accurate data for the start of the school year."