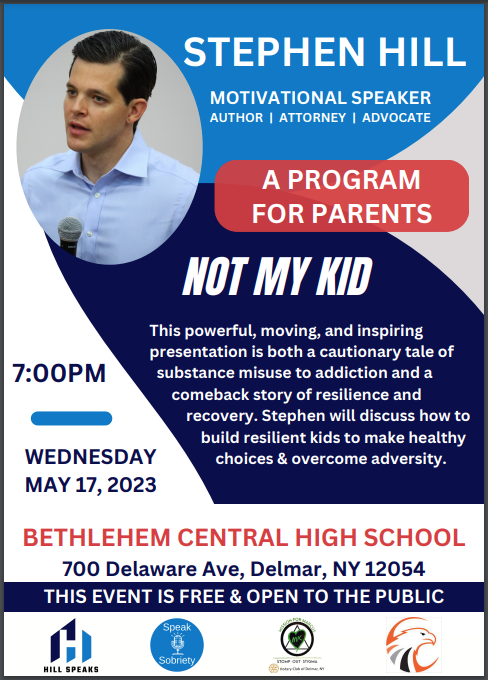 COME EARLY…FREE PIZZA DINNER FROM 6:30p to 7p in the CAFETERIA for attendees. Community organizations will also be on hand during dinner with resources and information.
On Wednesday, May 17, 2023 from 7 p.m. to 9 p.m., Mission for Marcus is sponsoring a special program for parents and community members at Bethlehem Central High School featuring Stephen Hill, a renowned national speaker on substance use prevention, mental health, and resilience.
Stephen has a truly inspiring comeback story that everyone must hear. He is the founder of Speak Sobriety, a young person in recovery, bestselling author, recovery coach, and an attorney. He has presented in front of thousands of people for over 500 schools and coalitions across the country.
Through knowledge gained from his own personal and professional experience, Stephen shows parents how to build resilient kids to make healthy choices and overcome adversity. Stephen will also be speaking with our high school students during the school day. This is an amazing opportunity for parents to have a meaningful conversation with their children about the messages and lessons from Stephen's presentation.
This event was made possible by the generosity of Mark and Theresa Kaplan, who founded Mission for Marcus in memory of their son, Marcus Kaplan. Marcus died from the disease of addiction in 2019 at the age of 33 after a long struggle with opioid addiction. He was a 2004 graduate of Bethlehem Central High School. This event is free and open to the public. We hope to see you there to listen, learn, and engage in this very important conversation.