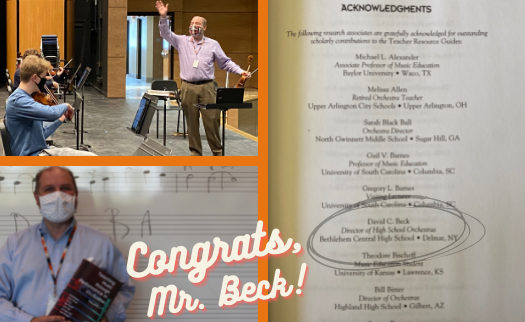 Choosing the right concert music for young orchestra students can be one of the most difficult things a strings teacher must do. One BC teacher is helping to make those decisions — and the lessons that follow — easier for thousands of orchestra teachers across the country through his contributions to one of the most sought-after resources for teaching orchestral music.
He is longtime music teacher David Beck, who was invited to share his expertise as part of Teaching Music through Performance in Orchestra (Vol. 4). Beck is one of 50 educators nationwide who were asked to contribute to the book, which was published this spring by GIA Publications. These educators, including Beck, served as research associates and writers on the book providing in-depth analysis of the most significant works for string ensembles and orchestras in schools. The contributors included some of the top orchestra teachers and directors from K-12 schools, conservatories, colleges and universities across the United States.
Together, the group authored 92 individual research guides included in Teaching Music through Performance in Orchestra (Vol. 4) that will be used by teachers to develop lesson and concert plans for students. Beck contributed three of these guides as part of the book:
"Caribbean Cruise" by David Borowitz (edited by J. Cameron Law)
"American Landscape" by Soon Hee Newbold
"Aria: Air from Overture No. 3 in D, BWV 1068" by Johann Sebastian Bach (arranged by Leopold Stokowski)
The resource guides throughout the book describe each composer, composition, historical perspective, technical considerations, stylistic considerations, musical elements and more in concise summaries for teachers. Each entry required many hours of research, writing, revisions and deadlines.
It has been 13 years since the last edition of the teaching resource manual was published. Being chosen to contribute to the book was a high honor and we congratulate Mr. Beck on this achievement!
David Beck has been a teacher in Bethlehem since 1991.