With the start of the school year right around the corner, the BCHS Counseling Department will be holding our annual Sophomore Meet & Greet on Tuesday, August 30th from 9:00 AM – 10:00 AM. The program will be in-person in the high school auditorium and provide students with an opportunity to meet their new 10-12 counselor.
Sophomore Meet & Greet
WHO: Sophomores & Parents/Guardians
WHAT: Sophomore Meet & Greet for the Class of 2025
WHEN: Tuesday, August 30, 2022 From 9:00 AM to 10:00 AM
WHERE: BCHS Auditorium – Enter Through The HS Main Entrance
AGENDA
School Counselor Introductions
Role of the School Counselor
Academics, Transcript Building & Graduation Requirements
Career Exploration & Naviance
Extracurriculars & Resume Building
Tips For A Successful Sophomore Year
Counselor Q&A
COUNSELOR ASSIGNMENTS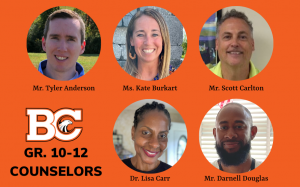 Mr. Anderson (Last Names: McA – R)
Ms. Burkart (Last Names: S – Z)
Mr. Carlton (Last Names: D – I)
Dr. Carr (Last Names: J – Maz)
Mr. Douglas (Last Names: A – C)
We hope many of you will be able to attend, but understand that some of you may have prior commitments, schedule conflicts, or no transportation. If this is the case, please do not stress. We will also be scheduling meetings with each student throughout the year.