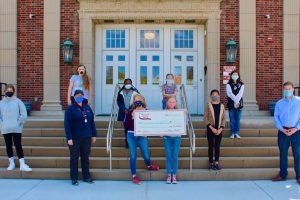 The Bethlehem Central Middle School Library Media Center recently won a $500 award from Stewart's Shops that will be used to help bring an award-winning author to the school. 
The award was part of the 2020-21 Stewart's Holiday Match program. From Thanksgiving Day through Christmas Day, Stewart's customers impressively donated over $941,000 to the program. Each individual donation is matched penny for penny by Stewart's Shops. A total of $1.88 million was awarded this year to non-profit children's organizations, including schools, across New York and areas of Vermont where Stewart's Shops are located.
Representatives from Stewart's recently visited the school to take a photo. Library Media Specialist Silvia Lilly invited the top 10 readers from grade 6 to join the photo op. Pictured from left to right are: Natalie Sherman, Penelope Meyer, Susan Sulzer from Stewart's, Jaiyana Daniels, Ms. Lilly (holding check), Kaelyn Grovenger, Goldie Phillipp (holding check), Sophie Ho, Taylor Ilardi and John Daniels from Stewart's.
There were three top 10 readers who are not pictured. They are Mallory Maycrink, Emma Chung and Oliver Hosang.
Thank you to Stewart's Shops for helping the school plan for an upcoming author visit. Past author visits to BCMS have included: 
Vesper Stamper
Luke Reynolds
Ben Mikaelsen