Superintendent of Schools Jody Monroe invites you to learn more about the Bethlehem Central School District Strategic Plan 2019-2024:
Dear Stakeholder:
On behalf of the Bethlehem Central School District, I am pleased to share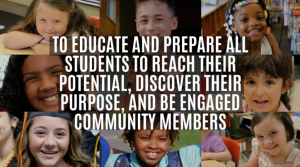 highlights of a new Strategic Plan that will guide district decision-making through the 2023-24 school year. This plan provides our school community with a refreshed mission, shared goals and sets specific data-driven priorities designed to meet the needs of every student, every day.
Development of the Strategic Plan was a collaborative effort involving faculty and staff, administrators, students, parents and Board of Education members. By engaging the wider community with public discussions and surveys, reviewing research, sharing diverse personal experiences, and thinking about the world our graduates will enter, this team worked over several months to create a five-year roadmap that will improve the ways we support and inspire each student.
Together, we have designed a plan that aligns with our new mission statement: To educate and prepare all students to reach their potential, discover their purpose and be engaged community members. The plan reflects core values and goals within four areas:
Academics: Delivering instructional and assessment practices that are aligned to a strong and relevant curriculum;
Character: Fostering positive character traits that are essential to becoming contributing members of society;
Community: Strengthening family, school, and community partnerships through transparent communication.
Wellness: Enhancing social-emotional wellness and balance for students and staff by supporting active, healthy lifestyles and promoting positive behavior.
In each, we have identified specific objectives and strategies and set benchmarks and key indicators that will allow us to measure the district's progress and prioritize resources in a way that honors our mission and the community as a whole.
I invite you to learn more. A summary of the report can be found below. A copy of the full report can be viewed or downloaded here. If you are unable to access the PDF, please contact the district office at 518-439-3965 for a copy of the report.
Sincerely,
Jody Monroe
Superintendent of Schools
Strategic Plan Overview – Video 
Mission Statement
To educate and prepare all students to reach their potential, discover their purpose and be engaged community members.
---
Core Values
Academics
Objectives
Curriculum, instruction, and assessment…
Supports the development of problem-solving skills, both with academic content and life skills
Prepares students to become actively engaged in their communities
Encourages and supports culturally responsive teaching
Ensures all students graduate with the skills, knowledge and attitudes to pursue productive and satisfying lives
Major Strategies
Conduct a Five-Year Program Review Cycle
Close all achievement gaps
Fully implement a K-12 academic and behavior Response to Intervention program
Integrate innovative, rigorous and engaging instructional technology throughout the K-12 educational program
Provide professional learning experiences for teachers in areas such as project-based learning, instructional technology, and cultural proficiency
Character
Objectives
Character Education…
Teaches and models positive behaviors and attitudes in all aspects of our learning environment
Ensures equity and cultural responsiveness for all students
Encourages all students to develop passions outside of the classroom
Develops in each student an understanding of his/her unique character strengths
Major Strategies
Provide staff with professional development to increase awareness and offer strategies to promote equity and inclusion for all students
Incorporate programs to promote and inform students about school activities and programs
Support age-appropriate character education programs at the elementary, middle and high school levels
Develop, promote and expand extracurricular opportunities for students
Community
Objectives
Strong family, school, and community partnerships…
Are welcomed and encouraged
Promote an atmosphere where partners develop common goals
Prepare students with the skills to participate in their community
Support the success of students and staff
Advocate for equal access and opportunities for all students and families
Major Strategies
Collaborate with community partners to support and expand opportunities for students
Engage stakeholders in dialogue about priorities in the district
Develop systems that promote and improve outreach and advocacy for all families
Improve/create opportunities for family mentoring programs to guide families through school processes or assist with hardships
Provide workshop offerings and resources to support parents and community members on a variety of topics
Wellness
Objectives
Wellness…
Promotes connected relationships in the school community
Fosters self-care, a healthy lifestyle and mindfulness among students and staff
Maintains an environment that is physically and emotionally safe
Major Strategies
Employ the Whole School, Whole Community, Whole Child (WSCC) model to support a unified approach to improving the health and learning of all staff and students
Provide programs to strengthen the emotional and physical wellness of students and staff
Implement the K-12 social-emotional learning curriculum
Offer professional development to enhance the understanding of health, wellness, social-emotional learning, and safety
Improve student and staff attendance through the implementation of a multi-tiered model


---

Accountability & Measures
District leaders and the instructional team develop annual district goals that are tied directly to the Strategic Plan. These goals are reviewed regularly to track the district's progress. The 2019-2024 Strategic Plan includes 72 distinct metrics within the areas of Academics, Character, Community and Wellness. Each is benchmarked and includes annual growth targets. These can be found in the full report.
Below are 10 metrics identified as key performance indicators over the next five years:
Reading Proficiency Grade 3
Increase from 70% in 2018-19 to 85% in 2023-24
High School Graduation Rate
Increase from 94% in 2018-19 to 100% in 2023-24
Seniors Enrolled in at Least One AP Course
Increase from 52% in 2018-19 to 80% in 2023-24
English Language Arts Regents Mastery Level
Increase from 79% in 2018-19 to 85% in 2023-24
% of Grade 9 Students Earning at Least 6 Credits
Increase from 90% in 2018-19 to 100% in 2023-24
Algebra I Regents Mastery Level
Increase from 47% in 2018-19 to 70% in 2023-24
% of Students Participating in Co-curricular Activities
Increase from 77% in 2018-19 to 90% in 2023-24
% of Students Participating in Community Service
Increase 5% annually from a baseline to be established in 2018-19
% of Voters Voting in Favor of the District Budget
Increase from 81% in 2018 to 85% in 2023
---
Strategic Planning Committee
Courtney Bowen
Dan Cotton
Holly Dellenbaugh
Jonathan Fishbein
David Hurst
Kathleen Johnston
Charlie Jones
Judith Kehoe
Kate Kloss
Michael Klugman
Lynne Lenhardt
Rachel Linehan
Jody Monroe
Chris Myer
Raymond Nardelli
Hope Perlman
Dianna Reagan
David Rounds
Megan Sanders
Erik Smith
Marie Spain
Mark Sweeney
Merissa Taylor
Kelly Ward
Charmaine Wijeyesinghe, Ed.D.