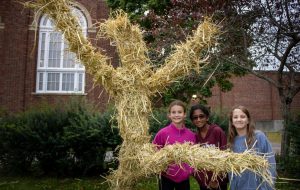 Our favorite straw friends have been brought to life once again at Bethlehem Central Middle School. 
The BCMS Garden Club spent Tuesday afternoon assembling scarecrows out in front of the building. 
"It's always fun because the whole community loves to see the scarecrows," said Ezra McIvain, a seventh-grade student at BCMS.
This was seventh-grade student Erica Piccolo's third time building the scarecrows in front of the school.
"It allows team building and being able to spend time with your friends," Piccolo said.
The scarecrows will be waving to visitors throughout the fall season.
Check out our Facebook page to see more scarecrow photos. 
See a video of students building the scarecrows on our Instagram page.