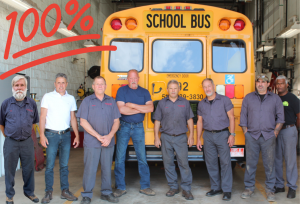 For the third time in a row, the BC transportation maintenance team has earned a 100% rating from the NYS Department of Transportation (DOT) on its safety and maintenance inspections. Every school bus is inspected twice a year, and every BC bus has passed with flying colors thanks to this hard-working team. 
Pictured above, from left to right, are
Ray Ginter

John Hazelton (Supervisor)

Anuar Dominguez

Scott Vanhoesen

Artur Pengu

Ricardo Gonzalez

Timothy Bender

Elvis Mariapan
Thank you for a job well done!