Overview
The Coordinated Health Team is a multi-disciplined organization within the Bethlehem Central School District which is dedicated to the long-term development and success of children. The district is looking to implement the Whole School, Whole Community, Whole Child (WSCC) model to support a unified approach to improve the health and learning of all students.
The development of the WSCC model was a collaborative effort between the Association for Supervision and Curriculum Development (ASCD), the Center for Disease Control and Prevention (CDC), and other key leaders from the fields of education, public health, and school health.  The WSCC model places a greater emphasis on the psychosocial and physical environment; and, it highlights the ever increasing roles that the community, family and student must play in students learning and health.
Utilizing the WSCC model will enable the Coordinated Health Team to implement a whole child approach to education, which ensures that each student is healthy, safe, engaged, supported, and challenged; sets the standard for comprehensive, sustainable school improvement; and provides for long-term student success.
---
CHT Sub-Groups
The Bethlehem Central School District utilizes a Coordinated Health Team to collaborate in creating a healthy school environment where students are ready to learn. Each sub-group is supported by facilitators that will meet regularly to discuss priority issues in each of the eight key component areas of the Coordinated Health Team. Click to read more about each sub-group.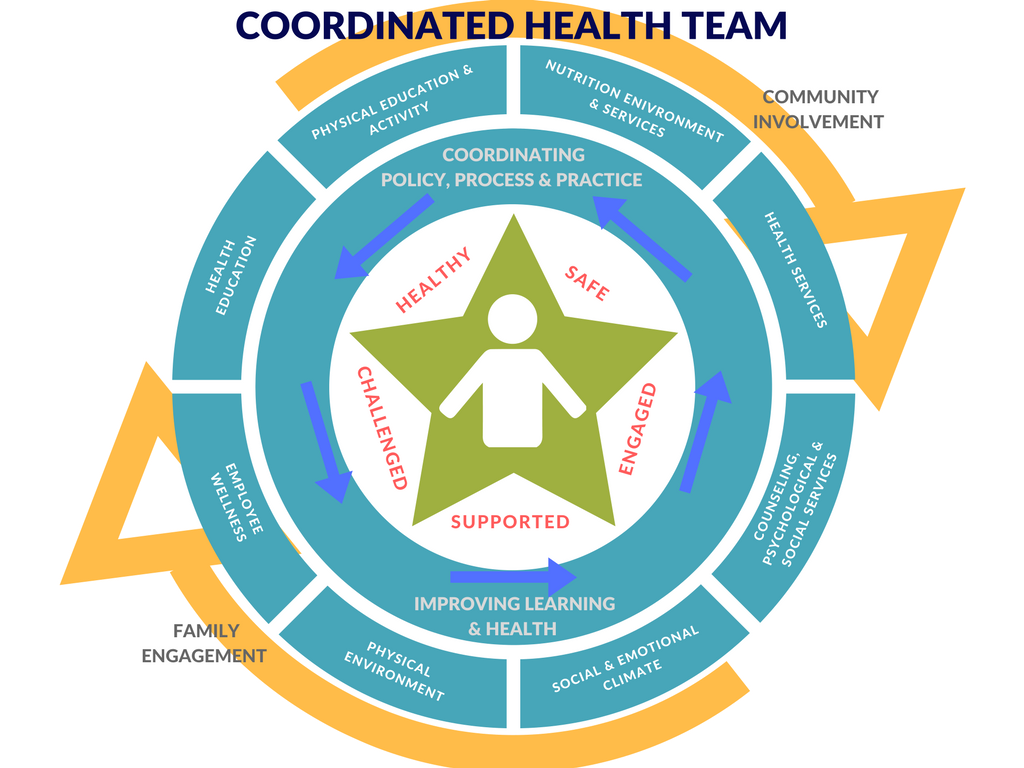 ---
Family and Community Involvement
The Coordinated Health Team is encouraging interested community members/parents to contribute to  BCSD's Coordinated Health Team efforts to foster a positive and safe school culture and environment by partnering with subcommittee efforts as noted above; as well as through programs and initiatives noted below.
Community Involvement
Community groups, organizations, and local businesses create partnerships with schools, share resources, and volunteer to support student learning, development, and health-related activities. The school, its students, and their families benefit when leaders and staff at the district or school solicits and coordinates information, resources, and services available from community-based organizations, businesses, cultural and civic organizations, social service agencies, faith-based organizations, health clinics, colleges and universities, and other community groups. Schools, students, and their families can contribute to the community through service-learning opportunities and by sharing school facilities with community members (e.g., school-based community health centers and fitness facilities)
The District continues to partner with several community groups, organizations and local businesses to create partnerships with the district. 
Caring and Sharing Program (Support available year-round)
The district has a goal to manage and improve the quality, cost-effectiveness, and efficiency of the District's current and future operations:
Plan to work with Chamber of Commerce, local businesses, and community members so that students are provided with increased opportunities for internships and field experiences in areas they may be interested in pursuing for their future.
Encouraging interested community members and parents to contribute to BCSD Coordinated Health Team efforts to foster a positive and safe school culture and environment by partnering with subcommittee efforts.
Family Engagement
Families and school staff work together to support and improve the learning, development, and health of students. Family engagement with schools is a shared responsibility of both school staff and families. School staff are committed to making families feel welcomed, engaging families in a variety of meaningful ways, and sustaining family engagement. Families are committed to actively supporting their child's learning and development. This relationship between school staff and families cuts across and reinforces student health and learning in multiple settings—at home, in school, in out-of-school programs, and in the community. Family engagement should be continuous across a child's life and requires an ongoing commitment as children mature into young adulthood.
Families and school staff work together to support and improve learning, development, and health of students.   Examples are as follows:
Why is a Coordinated Health Team important?
A coordinated approach to school health effectively aligns health and education efforts and leads to improved physical, mental and developmental outcomes for students. Research studies over the past decade have consistently concluded that student health status and student achievement are directly connected and, in fact, that student health is one of the most significant influences on learning and achievement.
Additionally, a coordinated approach to school health reduces fragmentation, duplication of services and provides a streamlined system for service delivery that is cost effective.
What are the components of a Coordinated Health Team?
A Coordinated Health Team provides a system designed to address the needs of the whole child by effectively connecting health with education. This coordinated approach provides the framework for families, communities, and schools to work together to improve students' health and capacity to learn. Each component of the coordinated school health approach makes a unique contribution while complementing the other components, ultimately creating a whole that is greater than the sum of its parts.
How will our students benefit from a Coordinated Health Team?
A Coordinated Health Team can:
reduce absenteeism and classroom behavior problems;
address risky youth behaviors such as lack of physical activity, poor diet, early
sexual activity, and tobacco use;
improve classroom performance;
better prepare students to be productive members of their communities;
make schools more engaging;
establish good life-long healthy practices; and
address staff wellness needs.