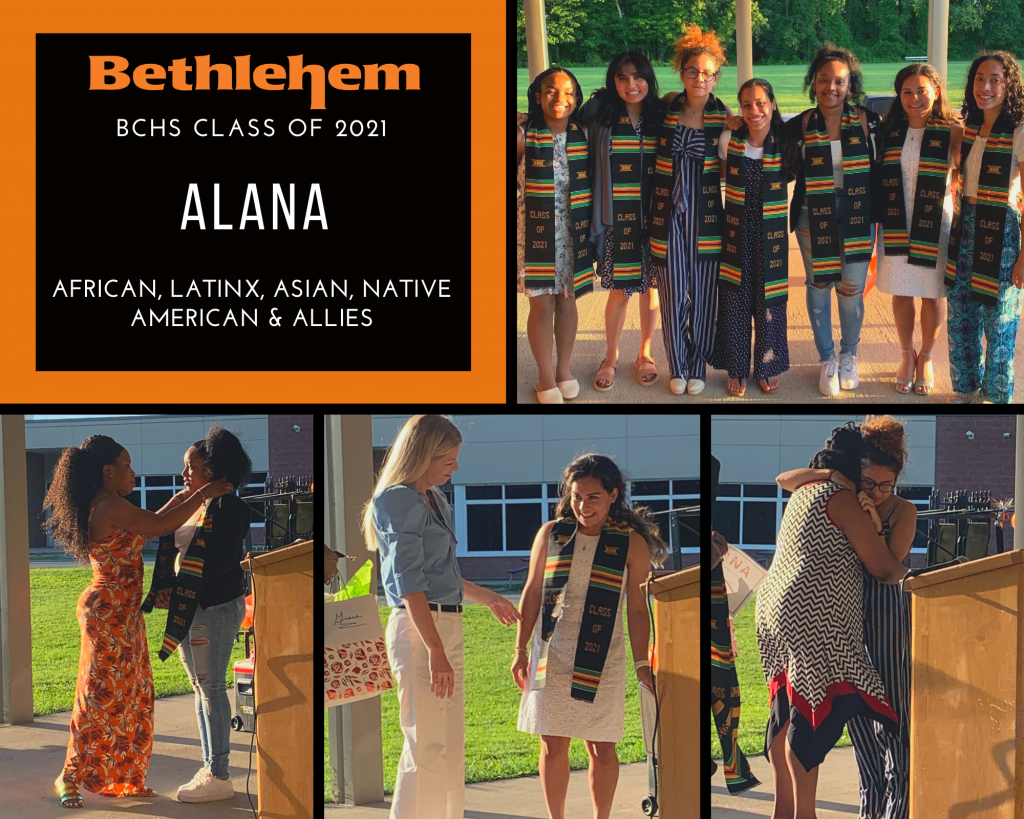 On Thursday, June 17, students from the class of 2021 of Bethlehem Central High School who are members of ALANA (African, Latinx, Asian, Native American & Allies) at BCHS, took part in ALANA's second annual Sankofa. 
ALANA is a student alliance that promotes cultural awareness and inclusion with a focus on leadership and college exploration. Members and advisors meet regularly to help one another navigate through ALANA-related topics and to provide leadership on important issues within the school community. 
Introduced to BCHS by ALANA advisor and school counselor Dr. Lisa Carr in 2020, the rite of Sankofa celebrates an important transition for ALANA seniors. With its roots in Ghana, Sankofa provides ALANA students and their families an opportunity for reflection and celebration ahead of graduation. The Sankofa was held outdoors at the middle school pavilion. It was the first to be held in person.
"We have been inspired by your persistence, grit, determination, and numerous accomplishments You have been presented with many unique challenges over the past two years and you have handled them with elegance and grace," said Dr. Carr, who has been the ALANA faculty advisor for  23 years. "We are becoming a more culturally, ethnically, and linguistically aware and inclusive community because of you."
Dr. Carr served as host of the Sankofa, which she described as, "never forgetting our past, honoring our ancestors, and celebrating our future." The literal translation of the word Sankofa and its symbolism, she said, is "it is not taboo to fetch what is at risk of being left behind."
Faculty, administrators — including Superintendent Jody Monroe — were joined by parents and former ALANA members at the celebration to celebrate the ALANA graduates.
The highlight of the Sankofa is a "donning ceremony" where students were presented with the equivalent of an ALANA honor cord: a colorful Kente stole each will wear at their graduation ceremony on June 25. The Kente stole is known around the world as a representation of West African culture featuring unique colors and patterns. A special family member or friend places the stole on the graduate and they are encouraged to express what the student means to their family.
This year's ALANA students include:
Nyahera Santeliz
Niki Patel
Caldonia Dickerson
Celiann Soto Dávila
Jheda'e Jagdath
Grace Apuzzi
Sohalia Tiu
Ana Luna-Gastelum
Madison Rich
Khamanyie Richardson
Music, poetry, laughter and tears marked this year's Sankofa held 15 months into the COVID-19 pandemic.
"Last night, I attended the first in-person Sankofa ceremony for Bethlehem's ALANA graduates," said BCHS English teacher Eileen Turo in a note to colleagues. "I expected a few words from Dr. Carr and the donning of the Kente stoles. Instead what I witnessed one of the most touching and powerful ceremonies I've ever attended. Parents told stories filled with humor, admiration, strength, resiliency, and gratitude. They spoke of their daughters' desire to advocate for others and for justice and also spoke of some of the hardships their families had faced and how their children had powered them through those challenges."
In addition to providing a safe space for students, ALANA served as this year's lead organization coordinating the Black History Month celebration for the district and proudly supported Asian American & Pacific Islander, Native American, and Hispanic Heritage months. ALANA members coordinated a storytelling program for elementary school students, participated in social justice and mindfulness workshops, and sponsored dynamic guest speakers including BC alumni and poet and author Miki Conn.
Thank you to Dr. Carr and teachers Michele Atallah, Nick Ferguson and Preya Krishna-Kennedy for organizing this year's Sankofa.